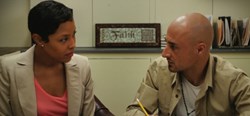 Los Angeles, CA (PRWEB) December 10, 2013
The rich program at NewFilmmakers LA Film Fest on December 14th contains nine short films and one feature length project. The audience will be taken on a journey with these impacting stories. There is drama, suspense, fiction, non-fiction, and comedy. The storytelling will transport you to another world. From the first to last film you will be living a whole different reality that is an eye-opening experience. You are certain to experience something aside from the mainstream. A truly independent filmmaking experience in the best sense.
Enjoy cocktail in the red carpet Cinema Lounge while mingling with filmmakers, casts, and crews of the films between programs on the outside patio, surrounded by historic buildings of Downtown Los Angeles.
The December 14th screening program includes:
Sahasi Chori (Dir. Erin Galey / India, Nepal) - The 19 minute short film has already won two "Best Short Film" awards from SENE Film, Music & Arts Festival and Palm Beach International Film Festival. The film is about Bhumika, a 13-year-old Nepali girl that travels with her family friend Krishna from her Himalayan home to her first job in the city. Leaving the village begins a fateful journey of unexpected events in an unfamiliar world. When Krishna suddenly asks her to cross the border with him to India, taking her further and further away from home, Bhumika must ask herself what she's willing to sacrifice for the good of both her family and Krishna's.
Galey executive produced, wrote, and directed Sahasi Chori (Brave Girl), a narrative short exploring con artists of the sex trade, shot entirely on-location in both Nepal and India. The film has screened at numerous film festivals nationwide, including SXSW, Atlanta, Bermuda, Sarasota, Busan, and Palm Springs. It was also awarded a Special Jury Prize from Bermuda Film Festival. The film was also a grand prize runner-up at the First Run Film Festival in 2012, earning supporting awards in screenwriting and producing, as well as the Carl Lerner Award for a film with social significance.
Los Villanos (Dir. Sabrina Skau / USA) – Danny, Melvin, and David are "Los Villanos," a group of friends who grew up together in South Central Los Angeles. Against a backdrop of poverty and violence, this documentary film explores the importance of friendship and family in their lives as they enter adulthood.
Director Skau filmed the lives of "Los Villanos" from January to July of the current year. They call themselves "Los Villanos" because they are the first group of children to grow up in the apartment complex called Villa Esperanza built in 1994 by the Esperanza Community Housing Corporation, a local community development organization.
Shadowplay (Dir. Ed Osghian / Canada) - David is a recent hire at a multinational company. As the important project he is working on nears completion, his secretive behavior draws the attention of his superiors. Sloan, corporate security specialist hired by the executive Glenda Grey, gets increasingly frustrated trying to understand what he is dealing with. As the fear grows that David is about to sell corporate secrets to competition, everybody is forced to action.
Home (Dir. Kyle McAuley / USA) - Is about a young man who moved to LA about 2 years ago and finds himself in the midst of harsh struggle in a big City, with lots of competition and financial problems. When he is about to give up on his dream he has an epiphany and turns his struggles into art.
Haenyeo: Women of the Sea (Dir. Alex Igidbashian, Daye Jeong and Kevin Sawicki / USA) Haenyeo refers to the women free divers of Jeju Island, South Korea who for centuries have collected seafood without the use of scuba equipment. This short documentary provides a portrait of Chuwar Park, a still active and unbelievably vibrant 82-year-old diver. Examining her daily routine as well as her past, Park sheds light on this unique matriarchal culture that has changed little since the 19th century.
Le Passage (Dir. Fabien Montagner / France) A lonely teenager, who is living with her grandfather, has a difficult cohabitation with him. One day, whilst walking outside, she will enter in an adventure out of time, which will reveal a dark moment about her family history.
Nervous Person (Dir. Max Sherwood / USA) Nervous Person is a loud silent film, an upsetting slapstick comedy and an accessible, plot-driven art indie movie. It's about a man struggling and lost at a public event that is as wholesome as it is strange.
The Bride (Dir. Hanelle M. Culpepper / USA) Filmed primarily in one long-take, "The Bride" is about a woman entrusting her bridesmaids with a major problem -- she questions her love for her fiancé and more than that, her sexuality. Minutes before the ceremony is to begin, will she change her mind?
East of Kensington (Dir. Kellen Moore / USA) - Years after Peter Pan and the Lost Boys have overthrown the pirates, Peter visits London to return Wendy to Neverland and is kidnapped by a mysterious Stranger residing in the decaying remains of the Darling House. Peter is forced to confront a harsh reality that challenges his innocence.
The independent films talented cast includes quite an impressive group of young actors that have extensive resumes. River Alexander, who plays Slightly, has appeared in the CBS TV series "2 Broke Girls." Kelsey Lee Smith who plays Wendy was young Samantha in the ABC TV series "Samantha Who?" with Christina Applegate, Jennifer Esposito and Melissa McCarthy.
Avenues (Dir. Aaref Rodriguez / USA) - Based on a true story, Avenues is a deeply personal exploration of fatherhood and the isolation felt by former convicts. The film follows Saul Sanchez as he returns home to the rough Northeast Los Angeles neighborhood of Highland Park—also known as The Avenues—after serving a decade-long prison sentence... all in the hopes of connecting with his daughter whom he's never met.
The film stars Hector Atreyu Ruiz from the new FOX TV Series "Gang Related" and Tracey Heggins from the Summit Entertainment Feature "The Twilight Saga: Breaking Dawn" with Kristen Stewart and Robert Pattinson.
AT&T Center is the Presenting Venue Sponsor of New Filmmakers Los Angeles. Producer's Circle Sponsors include SAG-AFTRA and Wells Fargo.
To purchase tickets for the New Filmmakers LA Film Festival on December 14, 2013, please visit http://www.newfilmmakersla.com.