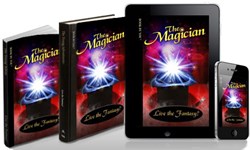 Terrific story and the magic tricks at the end will turn your loved one into a little Houdini - with tricks that will amaze young and old alike!
(PRWEB) December 09, 2013
Just in time for the holiday season, THE MAGICIAN makes a truly unique gift for every special child. Presented in a professionally bound, full-length novel with personalized names and features throughout, and available in paperback, hardcover, or ebook (delivered immediately upon ordering), this personalized book will make an amazing gift full of fascinating twists and thrilling turns. Even a parent or other beloved adult can be included in the book and help guide the hero and his or her friend on their quest as the personalized grown-up character in THE MAGICIAN.
Fully personalizable — down to the gender of the hero and a friend, this magical romp features a bike-riding aspiring magician and his or her best friend (or sibling). The twosome helps teach skateboarding lessons at the local skate park, run by a grumpy curmudgeon ironically named Mr. Glad. After the friends rescue a classmate from nearly being swept away by a rushing river, they team up in an exciting stream of events involving a high-stakes bike race and an exciting magic show, all in the name of saving the skate park. The magic-loving star of this personalized novel makes friends, learns important lessons, and best of all, performs magic tricks that little readers everywhere can learn themselves, all carefully detailed and explained in the back of the book. With an engaging storyline packed full of laughter, children will become absorbed in the story and excited to see how their personalized book ends.
When kids see their personalized novel, with their own names, along with familiar people and places in their story, they are excited to read— and they'll love learning the magic tricks themselves. At BookByYou.com adults and children can co-author THE MAGICIAN by selecting the names, physical features and places to personalize. With over 20 features to personalize, children can put themselves in the leading role and include friends, relatives or even their favorite TV characters. The character questionnaire, available on the Book By You® web site, is fun and easy to complete, with characters and features such as hair color and length, eye color, friends' characteristics and more. THE MAGICIAN even features a personalize-able pet. The story's many personalized features make this book a great gift. This professionally bound book is available in paperback, hardcover, and personalized ebook format.
Mike Pocock, founder of Book By You, says, "Reading 'The Magician' is an engaging experience for every child! The story is one of our best and certainly the magic tricks revealed at the end of the story will make every reader into a little Houdini with tricks that will amaze and baffle young and old alike!"
To purchase a personalized children's book, magicians in training go to the company's website at BookByYou.com and complete a character questionnaire specifying the information to be included in their book. The company offers a free demonstration area where readers can preview personalized excerpts from any of the company's teen, romance, mystery or children's personalized books.
BookByYou.com has received national media coverage and been featured on ABC's The View, CNN, Fox News, The Wall Street Journal, Jimmy Kimmel Live and many additional media outlets.
BookByYou.com is an interactive publishing company and is the world's largest provider of personalized books. Media interviews, promotions and give-aways are available upon request. Please contact Michael Pocock at 1-877-898-1440 or publish(at)BookByYou(dot)com.