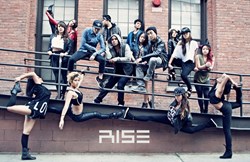 The best hip hop dance crews come out of California. New York isn't respected as a hip hop dance innovator anymore. It's sad and we're setting out to change that. - Todd Chen, Program Director
New York, NY (PRWEB) December 10, 2013
RiSE Dance Company, New York City's Best Dance Crew of 2012, is excited to announce plans for its second season of hip hop dance competition and performance. Beginning with a charity benefit for the victims of Typhoon Haiyan on Friday, December 13th 8pm at Turtle Bay Music School, RiSE has also recruited more top tier talent to help carry them forward, including award-winning D.C. choreographer Paolo Slice, one of the founders of Major Definition, Slice performed with the prominent Culture Shock D.C. team to many top 3 and first place finishes in the D.C. Maryland area.
PUTTING NYC BACK ON TOP IN HIP HOP DANCE
In just its first year, RiSE Dance Company has rapidly evolved from idea to achievement – by winning 1st Place for NY's Best Dance Crew 2012, NYC Dance Week top performance honors, 5th place in the World of Dance New York Competition Upper Division 2013, Top 5 in 2NE1's "I Am The Best" Dance Cover Contest and has even released http://youtu.be/0t2OC1Bs5gE, a viral dance video to Robin Thicke's hit "Blurred Lines" with nearly a quarter of a million views.
To hear Todd Chen, director of RiSE Dance Company, tell it, RiSE Dance Company's mission is about reclaiming respect for the city where hip hop was born. "New York was once the capital of Hip Hop Dance – b-boying, popping and locking were all born in NYC," Chen said, "but New York got stuck in the past and today, the best hip hop dance crews come out of California. New York isn't respected as a hip hop dance innovator anymore. It's sad and we're setting out to change that."
RiSE Choreographer AJ Padahayag credits his team's "willingness to not only push past the hardships and pains of dance life, but to courageously rise above them" for their 'overnight' success. He added, "I can see the team having an influential presence in solidifying the bonds of the New York dance community through utilizing our diverse backgrounds and personal networks."
Dan Dao, another founding choreographer of RiSE, agrees, "I see this team playing an integral role in unifying the fragmented NYC dance community."
RISING TOWARD THE FUTURE
"I hope that we can have a second performance team next year," says Dan. "There are a lot of dancers out there who are hungry and have been waiting for an opportunity to showcase their talent and we want to give them a chance to perform as a team." Also in the works for RiSE is the UPRISE Dance Academy, an education program specifically focused toward youth. At the end of the day for founder and Director Todd Chen, continued success for RiSE comes down to education, inspiration and entertainment. "Last year, we outdid ourselves with every new performance and created choreography that delighted our audiences. The titles you win today won't matter a year from now but I believe the impact you have on others with your teaching and art is something that stays with people."
ABOUT RiSE DANCE COMPANY
Founded in 2012, RiSE is a premier dance company in New York City dedicated to educating the community about the cultures of movement. Based in Chelsea on 151 W 26th St., RiSE provides educational programs in Hip Hop, Zumba, Salsa and Belly Dance. The professionally managed RiSE Dance Troupe performs and competes locally and nationally throughout the tri-state area.
To learn more about RiSE Dance Company, visit: http://www.riseny.com.
To see the RiSE Dance Company in action, visit: http://www.youtube.com/user/inanimation.
Information and Ticketing for the December 13th Typhoon Haiyan charity benefit featuring RiSE: https://www.facebook.com/events/552061458207274.