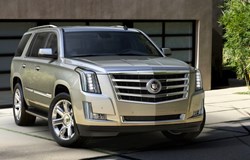 Even though these vehicles are all relatively expensive, there is still great value to be had.
Torrance, CA (PRWEB) December 10, 2013
Customers simply can't get enough of large cars, and automakers are responding in kind with some of the most advanced SUVs in history. To help them sort through all the choices, autoMedia.com has named ten of the best buys that will leave buyers smiling. The article, Top 10 Luxury SUVs For 2014, singles out ten large vehicles that are pushing the boundaries of comfort and capability, and laying out groundwork for the Luxury SUVs of the future.
The SUV is about much more than size and power these days, and the Luxury SUV has evolved to cater to a demographic that craves quality, refinement and efficiency at every corner. As automakers have caught on the trend, some truly remarkable vehicles have come to light. Once known as simply larger cars with slightly better interior materials, the Luxury SUV of today is stuffed with opulence that not only matches the best vehicles on the market – it leads them.
What's more, automakers are still rolling out new versions of their Luxury SUV that hasn't been updated in the last few years – so the segment is getting better each and every year. With that in mind, the autoMedia.com article highlights Luxury SUVs that are pushing the envelope in terms of modern technology and adventurous capability. Customers have always aspired to own large and luxurious vehicles here in America. Now, they simply have more – and better – options.
"The Luxury SUV market is one of the most profitable in the entire automotive industry, and also one of the most desirable for customers in this day and age," said autoMedia.com Founder and CEO Doug Hamlin. "The market is changing and evolving every year, and it can be hard to keep up with which model offers what, and for how much. The new autoMedia.com list announces the best options available today. Even though these vehicles are all relatively expensive, there is still great value to be had."
The article lists some of the most decorated luxury brands in the world, peppered with some surprises that earned an invite by bringing something new to the table.
Keep checking autoMedia.com for the latest news, photos and analysis from around the automotive industry.
About autoMedia.com: The auto website was launched in September 2000 by a team of automotive editorial, design, and publishing professionals, with the goal to be the premier provider of quality automotive content on and for the Web. Today it features over 92,500 pages of original articles, including over 2,500 features researched and written by leading automotive experts, covering new and used car buying, new vehicle previews, road test reviews, car care maintenance, professional driving advice, and technology. Automotive enthusiasts and new car shoppers can read about the latest industry news, pricing, rebates and incentives, view photo galleries and research details on all makes and models. For more information, visit autoMedia.com.