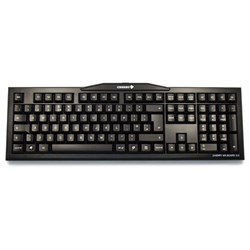 We at KBS are dedicated to helping people find the right Cherry switch for the job.
Wolverhampton (West Midlands) (PRWEB UK) 12 December 2013
Leading UK keyboard and IT accessories supplier, Keyboard Specialists Ltd (KBS) are now offering the full range of Cherry Mechanical Keyboards which utilise a switch underneath each individual key allowing different typists and gamers to customise experience and functionality.
Choosing the right switch is essential to becoming a more efficient gamer or typist, which is why KBS have also launched a new Live Chat support feature on their website giving visitors direct access to expert advice, support and guidance.
Kieran Ford, Head of Business Development at KBS said, "We at KBS are dedicated to helping people find the right Cherry switch for the job and with our Live Chat support feature we can now give instant answers to anyone who enquires through our website."
Cherry have been manufacturing the most reliable, effective and efficient mechanical switches (MX) for around half a century. Whilst most keyboards have a life span of 1 – 3 years, the Cherry MX range still has survivors from the 1980s and continues to lead the way in typing and gaming fields.
With four main options; Blue MX, Black MX and Brown MX, typists have been able to fine tune their needs with a small but effective set of options. The key differences between the four are:

Cherry Blue MX – this switch has tactile feedback (a 'bump') and audible (known as 'clicky') keys. The force needed to press each key is 50cN and with the actuation point being just below the release point, these 4mm travel keys are ideal for touch typists.
Cherry Black MX – this is a linear (non-tactile) switch and has a stiffer spring than other variations. This ensures gamers can quickly press keys as required in rapid fire games and also ensures a solid key press requirement at 70cN. The actuation point is just above the release point (2mm) and with 4mm full travel keys, this is great keyboard for speed and efficiency.
Cherry Brown MX – the Brown MX switch is very popular as a middle ground between Blue MX and Black MX. It offers a lightweight actuation force (45cN) and has a tactile feel, but with non-'clicky' feedback. Full 4mm travel and actuation at 2mm gives accurate typing and is ideal for both typists and gamers.
Cherry Red MX – this light, efficient and reliable switch is very similar to the linear Black MX switch, only with a lighter force needed to press (45cN). These switches are ideal for gamers who need rapid key presses and 100% effectiveness.
Cherry cater for a wide audience with high quality, dedicated keyboards suitable for a variety of users. The Cherry G80-3850 is the latest Cherry MX Keyboard and KBS now stock and supply these with a next day delivery service. Accessories like the wrist rest are also included and this new offering can be used wired or wireless.
About Keyboard Specialists:
KBS is the leading UK supplier of medical, industrial and educational keyboards and IT accessories, meeting the requirements of some of the biggest organisations across the world. The company has quickly established itself amongst the leaders in specialised IT hardware distribution and offers worldwide delivery options to suit any business, using globally recognised logistical partners to deliver items quickly, securely and conveniently.
Please visit: http://www.keyboardspecialists.co.uk for more details.