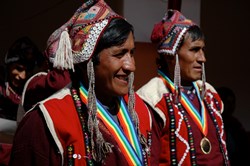 "These unique tours are a fantastic chance to experience the real Peru, with its rich cultural heritage, traditions and history." Andre Kiwitz, CEO
(PRWEB) December 16, 2013
Peru has a fantastically rich heritage and culture, formed by a combination of varying influences - the Inca civilizations, Native Americans and later, Spanish colonizers. Peru today offers a wide variety of cultural experiences in the form of food, music, dancing, literature, various performances and, of course, festivals celebrated in many ways including bullfighting (without the bulls being killed at the end) horseracing, fireworks and copious drinking.
Active Adventures into the Cultural Heart of Peru is a series of 9 day tours running from April to September 2014. The tours are exclusive and available only through Culture Xplorers and Viventura. Each of the 6 tours available takes in a range of activities focused on the culture, heritage and indigenous traditions of Peru. These tours are designed to give visitors a chance to experience the real Peru. Each tour includes a traditional Peruvian festival, including the world's only festival of earthquakes.
The 6 festivals are:
Corpus Christi Festival
El Señor de los Temblores (Lord of the Tremors) Festival
Cruz Velacuy Festival
Pentecost Celebration
Virgen de la Almudena Celebration
Celebration of San Jeromino
These tours also offer the chance to see and experience traditional Peruvian crafts and activities like weaving as well as the famed Macchu Pichu and many other opportunities to explore Peru's Incan and colonial heritage.
To find out more contact us by email or telephone:
Toll Free US & Canada 1-888-238-1602
UK (020) 3514 3192
Worldwide 1-813-579-3389