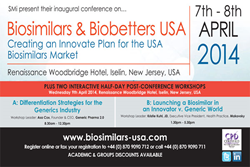 "A thoroughly interesting and very informative conference with excellent chairs and presenters. More of the same please". Biosimilars and Biobetters Europe 2013 Attendee
Iselin, New Jersey, USA (PRWEB UK) 9 December 2013
After the phenomenal success of our Biosimilars and Biobetters event hosted in London in October, the SMi Group is delighted to announce the launch of the Biosimilars & Biobetters Conference in Iselin, New Jersey, USA, in April 2014. Registration is now open.
Through a series of exciting panel discussions, presentations and workshops, delivered by true industry experts and players, the Biosimilars and Biobetters USA conference will offer effective strategies and solutions for developing cost effective biosimilars for the future.
Event's website: http://www.smi-online.co.uk/2014biosimilars_usa54.asp
Benefits of attending:

Gain up to date insight into the regulatory landscape and how it is effecting the industry
Evaluate commercialization and development strategies to gain a competitive advantage
Calculate possible revenue streams from biosimilar production
Discover what lessons have been learned so far and what the future holds
Boost your industry knowledge and relationships by networking and learning from key industry and academic leaders
Key speakers include:

Dr Richard Dicicco, Chairman, Harvest Moon Pharmaceuticals
Dr John Pakulski, Senior Director, and Head US Biopharmaceutical Regulatory Affairs, Sandoz
Rodeina Challand, Executive Director, Biosimilars Development, Scientific Affairs, PRA International
Dr Stanley (SeungSuh) Hong, President, Research and Development, Celltrion Inc.
Paul Ashton, President & CEO, pSivida
Peter Pitts, President, Center for Medicine in the Public Interest (Former FDA Associate Commissioner)
Douglas M. Long, Vice President, Industry Relations, IMS Health
Dr Rakesh Dixit, Vice President, Research and Development Head, Global Biologics Safety Assessment, MedImmune (AstraZeneca Biologics), and many others.
Don't miss a chance to visit 2 interactive post-conference workshops:
A. Differentiation Strategies for the Generics Industry. Workshop Leader: Asa Cox, Founder & CEO, Generic Pharma 2.0
B. Launching a Biosimilar in an Innovator v. Generic World. Workshop Leader: Kristie Kuhl, JD, Executive VP, Makovsky
For the full conference programme and further information please visit:
http://www.smi-online.co.uk/2014biosimilars_usa54.asp
Alternatively contact Jonathan Collins on +44 (0)20 7827 6734 or email: pharma(at)smiconferences(dot)co.uk
Sponsorship opportunities are available for this event, please contact Alia Malick, Director, on +44(0) 20 7827 6168.