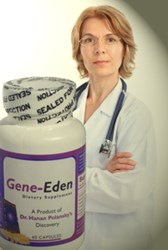 We recommend Gene-Eden-VIR to help the immune system more efficiently target the latent VZV. Gene-Eden-VIR was clinically proven to reduce symptoms in virally infected individuals. – Mike Evans, polyDNA
Rochester, NY (PRWEB) December 10, 2013
Herpes Zoster is a condition caused by the reactivation of the Varicella Zoster Virus (VZV). A common name for herpes zoster is "shingles." The condition usually affects people older than 60 years of age, and those with weak immune systems. However, studies show that a shingles outbreak can still happen in children, teenagers, young adults, and those with healthy immune systems (1).
If someone develops viral meningitis from VZV, that person can experience a sudden onset of fever, headache, and stiff neck. "It is often accompanied by other symptoms, such as nausea, vomiting, photophobia (sensitivity to light), (and) altered mental status." In addition, complications can develop. As study authors wrote, "Aseptic meningitis is one of the possible complications of VZV reactivation (1)." What this means is that the layers lining the brain, the meninges, become inflamed without the presence of a bacterial infection. This is according to the CDC on a page last updated on March 15, 2012 (2).
Some people may develop meningoencephaloradiculoneuropathy (meningitis disease of the brain caused by VZV), an even worse complication of VZV that needs prolonged antiviral therapy. Moreover, study authors noted that "a normal immune system does not guarantee the benign course of the neurological manifestations of VZV reactivation (1)." In fact, there have also been severe cases where VZV caused people to descend into a coma "within 24 hours of disease onset (1)."
Importantly, researchers wrote that when a person has a shingles outbreak, "the integrity of the immune system (is) important in conditioning outcome (1)." In other words, even though someone with a healthy immune system can still fall sick with a herpes zoster outbreak, those with a healthy immune system usually recover faster. In such a patient, antiviral therapy can radically shorten the length of the outbreak (1).
"We recommend Gene-Eden-VIR to help the immune system more efficiently target the latent VZV. Gene-Eden-VIR was clinically proven to reduce symptoms in virally infected individuals." – Mike Evans, polyDNA
A study published on August 12, 2013 in the peer reviewed, medical journal Pharmacology & Pharmacy, in a special edition on Advances in Antiviral Drugs, showed that Gene-Eden-VIR reduced symptoms associated with viral infections. (3)."
The study authors also wrote that, "We observed a statistically significant decrease in the severity, duration, and frequency of symptoms (3)."
To learn more about Gene-Eden-VIR, visit http://www.gene-eden-kill-virus.com. All orders of Gene-Eden-VIR are completely confidential, and no information is shared or sold to any third party. Privacy is assured.
References:
(1) A case of meningitis due to varicella zoster virus reactivation in an immunocompetent child. Published on November 13, 2013.
http://www.ncbi.nlm.nih.gov/pmc/articles/PMC3832881/
(2) Viral Meningitis – CDC. Page updated on March 15, 2012.
http://www.cdc.gov/meningitis/viral.html
(3) Gene-Eden-VIR Is Antiviral: Results of a Post Marketing Clinical Study. Published on August 12, 2013.
http://gene-eden-kill-virus.com/PP_Gene-Eden-VIR-is-Antiviral.pdf
polyDNA is a biotechnology company that develops dietary supplements using the unique scientific method developed by Dr. Hanan Polansky, which is based on Computer Intuition.
In addition to his unique scientific method, Dr. Polansky published the highly acclaimed scientific discovery, called Microcompetition with Foreign DNA. The discovery explains how foreign DNA fragments, and specifically, DNA of latent viruses, cause most major diseases.
polyDNA developed Gene-Eden-VIR, an antiviral natural remedy that helps the immune system kill latent viruses.