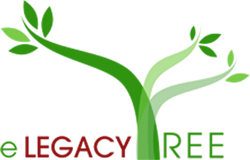 Everyone has a story and they should all be remembered.
Tampa,FL (PRWEB) December 11, 2013
A group out of Tampa has launched eLegacyTree.com, a website devoted to preserving the legacy of families, individuals, and future generations by preserving life stories and providing a platform interface like no other application before it.
Born out of a passion to preserve the oral history of families and individuals eLegacyTree.com holds firm to its belief that "everyone has a story". While many people can outline personal ancestry, there was not a platform in place for these stories to be told and preserved until eLegacyTree.com was launched.
"These life stories have incredible value and are an asset to be collected, shared, passed on and digitally preserved from one generation to the next."
eLegacyTree.com features a number of different ways for users to share their story including personal blogs, photos, audio files all for permanent storage online for now and future generations to enjoy.
Users can choose what information they want to keep private and what information they want to make public. Users can also connect starting specialized groups to share common experiences, such as historical events, success stories, charity events and causes, and personal and professional experiences.
eLegacyTree.com also features video tutorials. Site users can learn to create their own professional looking videos, upload, browse and share photos, join and login using Facebook accounts, find and match Facebook friends with other site members an more.
Everyone has a bucket list. With eLegacyTree.com you can share that list with your friends and families not only as a checklist but to share your progress and experiences along the way. Understanding that some bucket list items might be financially out of range for some people, the eLegacyTree.com team works diligently to find discounts for its members.
Additionally, The eLegacyTree Foundation was set up to provide support and funding for organizations that provide the quality of life for individuals and families for the disabled, active military, veterans, law enforcement, and first responders.
The group is committed to sharing its platform and partnering with a number of different groups such as the Wounded Warrior Fund, the Make-A-Wish Foundation and just to name a few.