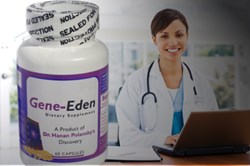 polyDNA recommends targeting the latent CMV before trying to get pregnant. Before a woman attempts to conceive, she should take Gene-Eden-VIR to help her immune system target the CMV virus more efficiently. - polyDNA
Rochester, NY (PRWEB) December 11, 2013
The cytomegalovirus (CMV) can cause mental retardation in children, even in those without symptoms. Children born with CMV symptoms are at high risk of developing SNHL (mental retardation with IQs <70, and microcephaly). Infected children with no symptoms can also develop SNHL (1). A study found that "…children with asymptomatic congenital CMV infection have a better long-term prognosis than children with symptomatic infection. However, approximately 10% of asymptomatic children will develop SNHL (1)."
Children with CMV symptoms at birth have certain signs that indicate possible brain damage, and that can alert doctors. These signs include "microcephaly (a neurodevelopmental disorder), chorioretinitis (an inflammation of the pigmented coat of the eye and retina), and the presence of other neurologic abnormalities at birth (1)."
Children without CMV symptoms at birth can still develop various CMV related problems over time, including SNHL (1). Other problems can include such things as profound hearing loss that may lead to deafness. As study authors noted, "…approximately half of children with asymptomatic infection who develop hearing loss will have bilateral deficits, which can vary from mild high-frequency loss to profound impairment. Moreover, hearing loss in these children is often progressive and/or delayed onset requiring ongoing audiologic evaluation (1)."
For many years, it was thought that children born to mothers with an active CMV infection were at the highest risk of being born with symptomatic CMV disease. However, recent studies have shown that even when the mother has a latent CMV infection, the risk to the newborn is the same. Researchers wrote that "symptomatic infection occurs with similar frequency in children born to women with primary CMV infection and those born to women who were CMV seroimmune (that is, the mother has a latent CMV infection) before pregnancy. In addition, the severity of newborn disease and the rates of CMV-associated SNHL also do not differ between primary and nonprimary (latent) infection groups (1)."
Thus, polyDNA recommends targeting the latent CMV before trying to get pregnant. Before a woman attempts to conceive, she should take Gene-Eden-VIR to help her immune system target the CMV virus more efficiently.
Gene-Eden-VIR is designed to fight against the latent CMV. A recent post marketing clinical study showed that Gene-Eden-VIR is safe and effective. Up to 70% of those studied reported a decrease in viral symptoms. (2)
Each ingredient of Gene-Eden-VIR was chosen through a scientific approach. Scientists scanned thousands of scientific and medical papers published in various medical and scientific journals around the world to identify the safest, most effective natural ingredients that target the latent form of CMV. (2)
To learn more about Gene-Eden-VIR, visit http://www.gene-eden-kill-virus.com. All orders of Gene-Eden-VIR are completely confidential, and no information is shared or sold to any third party. Privacy is assured.
References:
(1) Congenital cytomegalovirus infection: clinical outcome. Published in December 2013.
http://cid.oxfordjournals.org/content/57/suppl_4/S178.long
(2) Gene-Eden-VIR Is Antiviral: Results of a Post Marketing Clinical Study. Published on August 12, 2013.
http://gene-eden-kill-virus.com/PP_Gene-Eden-VIR-is-Antiviral.pdf
polyDNA is a biotechnology company that develops dietary supplements using the unique scientific method developed by Dr. Hanan Polansky, which is based on Computer Intuition.
In addition to his unique scientific method, Dr. Polansky published the highly acclaimed scientific discovery, called Microcompetition with Foreign DNA. The discovery explains how foreign DNA fragments, and specifically, DNA of latent viruses, cause most major diseases.
polyDNA developed Gene-Eden-VIR, an antiviral natural remedy that helps the immune system kill latent viruses.