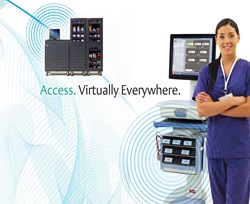 Wilkes-Barre, PA (PRWEB) December 10, 2013
Metro, a world leader in providing technology, storage and transport solutions for healthcare facilities, today announced their new Metro SecureRx MD Mobile Medication System. The SecureRx MD System promotes secure medication management processes from the automated dispensing cabinet or pharmacy to the patient bedside. Metro will debut the new system at the American Society of Health-System Pharmacists (ASHP) Midyear Clinical Meeting & Exhibition, December 8-12 in Orlando, Florida.
"The demand for new efficiency and increased visibility throughout the entire medication management process continues to rise and we're excited to help providers rethink this process with our advanced point-of-care innovation. The all new Metro SecureRx MD™ system integrates EHR and BCMA functionality, and secure medication storage, into a unified mobile workstation to enhance caregiver efficiency and improve overall clinician workflow," said Rob Sobie, vice president of Metro Healthcare solutions. "By solving the weaknesses of traditional medication workstations and legacy medication management processes, the Metro SecureRx MD enables sound medication delivery practices, increases security, and makes doing the right thing, the easiest thing."
Key features of the SecureRx MD Mobile Medication System include:

Individually locking bins provide secure patient specific medication storage for up to 12 patients
Interfaces with the hospital's information systems to access patient identification data
Utilizes Active Directory Authentication, reducing the number of nurse user IDs and passwords
Advanced user management systems provide real-time control of user credentials across the entire SecureRx MD fleet
User and bin events can be audited when needed, providing pharmacy with improved visibility
In addition to the Metro SecureRx MD System, Metro's booth (#1831) will highlight medication and supply management solutions for nearly every department in healthcare, long-term care and alternative care facilities, from AccessPoint Mobile Computing Systems and MedDispense Automated Dispensing Systems to Lionville® Pharmacy Fixtures and Medication Carts.
For more information on the Metro SecureRx MD System and the diverse breadth of healthcare solutions from Metro, visit http://www.metro.com.
About InterMetro
For more than 80 years, InterMetro has been the world's leading manufacturer of technology, storage and transport solutions in healthcare, food service, commercial and consumer products. Committed to understanding the needs of customers and channel partners, Metro provides complete solutions that optimize space, improve workflow and ensure overall safety. InterMetro is a business of Emerson. For more information, visit http://www.metro.com.
About Emerson
Emerson (NYSE: EMR), based in St. Louis, Missouri (USA), is a global leader in bringing technology and engineering together to provide innovative solutions for customers in industrial, commercial, and consumer markets around the world. The company is comprised of five business segments: Process Management, Industrial Automation, Network Power, Climate Technologies, and Commercial & Residential Solutions. Sales in fiscal 2012 were $24.4 billion. For more information, visit http://www.Emerson.com.
###