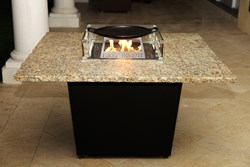 Orlando, Florida (PRWEB) December 10, 2013
Firetainment, Inc., producer of quality fire tables will continue to reach residential and commercial outdoor markets in the next few months using various dealer and media outlets.
The Firetainment brand is creating consumer interest as a unique product for the outdoor living space. Fire pit and grill sales are expected to grow in large amounts over the next five years with consumers focused on outdoor living at home. Because of these market trends, Firetainment expects to see an increase in sales and demand for their brand. What makes the all-season fire table by Firetainment unique is that they are three outdoor pieces combined: an outdoor dining patio table that converts into a fire feature (fire table) or a stove top cooking station. With more versatility and convenience than traditional wood burning fire pits, Firetainment tables are full size, very functional as a regular dining table, and come complete with our 'patent pending' universal cook mount and cooking package to prepare meals at home. According to Firetainment president, Kevin Fulp, "The idea behind our fire tables are that they perform three different functions within one outdoor patio style table: fire + table + cooking; providing the ultimate entertainment experience." Firetainment is committed to providing a high quality, durable product, that's hand-crafted right here in the USA.
To meet the demand of the market trend Firetainment is partnering with various retail locations to represent the All-Season fire table product. With fast growing interest in our unique product Firetainment is looking to increase the number of showroom dealers throughout the country. The Firetainment dealer direct program and pricing structure is available to qualified retailers. Retail centers are being offered an exciting product that is a one-of-a-kind within the outdoor living market. More information on the dealer program is available by contacting Firetainment directly.
The Firetainment product is also featured on HGTV's and DIY Network's popular show, Decked Out. The show follows cutting-edge deck builder Paul Lafrance and his crew as they build decks and outdoor spaces. Firetainment tables are used continuously in the filming of innovative deck designs that are on the show. Information on the show can be found at http://www.hgtv.ca/deckedout or http://www.diynetwork.com/decked-out/show.
More information about Firetainment is available online at http://www.firetainment.com.
###