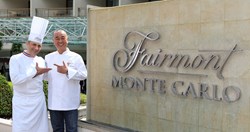 acclaimed and highly influential celebrity Chef
Monte Carlo, Monaco (PRWEB) December 09, 2013
It is official now, the big day has arrived! Nobuyuki "Nobu" Matsuhisa, the acclaimed and highly influential celebrity Chef and owner of Nobu restaurants, has settled down in the Principality of Monaco at the Fairmont Monte Carlo!
Born and raised in Satama, Japan, Nobu followed a particularly rigorous apprenticeship in a much respected sushi bar in Tokyo, before seeing his dream become reality with the opening of a sushi bar in Peru. It took little time for the Chef to be recognized worldwide for his amazing cuisine, mixing traditional Japanese dishes and South American ingredients using subtle spices and aroma combinations.
In 1987, he opens his own "Matsuhisa" restaurant in Beverly Hills: it is an instant success and he becomes a magnet for food lovers and celebrities alike, a fashionable place where Hollywood stars gather, such as Robert De Niro, who invites Nobu to open a restaurant in New York on Manhattan Island. In August, 1993, they open in partnership NOBU; many other Nobu restaurants are subsequently inaugurated in Tokyo, Milan, London, Honolulu, as well as in Beijing, Moscow, Dubai and Budapest. Today Nobu has 26 restaurants in 21 different cities around the world, spanning across 4 continents.
Among his specials, the Black cod yuzu miso, the Wagyu gyoza, the King crab leg with shiso salsa.
Nobu says of himself:
"Food is imbued with the feelings and personality of the cook. Even if you were to follow my instructions faithfully, using precise amounts of identical ingredients, I am quite sure that you would never be able to perfectly recreate the same flavours and textures that I make. For I always put something special in my food- my heart, or kokoro as we say in Japanese- and, you, of course, must put your own heart into your own cooking. For me, cooking is most about giving my customers little surprises that will lead them to make discoveries about their own latent tastes. It's about communicating my kokoro through every single dish I make."
They say about him:
" The world's sexiest restaurant" The Observer
" Nobu is the world's hippest restaurant chain." Vogue
"…The man who reinvented Japanese food." Jean-Georges Vongerichten
"… Heaven on earth and sex on a plate." Kate Winslet
" You can tell how much fun a city is going to be if Nobu has a restaurant in it." Madonna
Nobu Fairmont Monte Carlo will open its doors every day for dinner in a new elegant and cosy atmosphere featuring a magnificent bar, 2 exclusive private lounges and a new outdoor terrace overlooking the Mediterranean Sea that offers tables with the most beautiful views of France, Italy and Monaco.
If there is an opportunity not to be missed, it is this one!