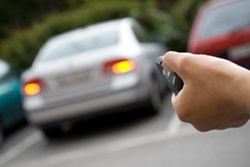 Florida is one of the top 5 states for car theft, so we want to make sure residents know how critical it is to secure their cars, RVs, or even boats over the winter holiday.
Longwood, Florida (PRWEB) December 10, 2013
Teachers Insurance Specialists in Longwood, Florida, announce their holiday theft prevention tips. With the upcoming holiday travel season Florida insurance agents are warning policy holders to protect their automotive assets while away for the holidays.
Teachers Insurance Specialists advises consumers to secure their automotive assets over the winter holiday to save money on their car insurance policy. "Florida is one of the top 5 states for car theft, so we want to make sure residents know how critical it is to secure their cars, RVs, or even boats over the winter holiday," says Simone Baldwin, owner/operator of Teachers Insurance Specialists.
Baldwin adds, "Many car thefts are 'crimes of opportunity' so it is important to minimize this number. Car owners can do this by simply locking car doors and rolling up the windows."
Teachers Insurance Specialists reminds consumers to protect their car keys. Never leave keys in the car because it makes stealing it that much easier. Additionally, a recent tactic for thieves is breaking into homes to steal vehicle keys. The Florida insurance agents at Teachers Insurance Specialists also advise you to not leaving car keys out in plain sight, even when at home.
Baldwin explains, "Make sure to keep valuables out of sight. Don't tempt a would-be-thief by leaving them in plain view. That means taking purses, wallets, cameras, DVD players, GPS devices and other devices with you when you leave your car or else put them in your trunk. Another thing to remember is that when hiding valuables make sure to do it prior to arriving at your destination. If someone watches you fill up your trunk with valuables and then walk away, your car is now a target."
To prevent a car theft, Teachers Insurance Specialists also recommend parking with the front end of the car facing an obstacle, like a wall or a curb stop. Turn the wheels toward the curb, and lock the steering. If leaving a car parked for an extended period, consider talking to a mechanic about disconnecting the power supply. Moreover, even if the car is parked in the garage at home, make sure to always lock all entrances to the garage, and never leave a car unattended when it's running-even in the driveway.
"Another strategy to prevent car thefts is to use alarm and security systems. Some insurance policy holders are eligible for a discount on their auto insurance if they have a car alarm or anti-theft system for their car," adds Baldwin.
Teachers Insurance Specialists suggest three kinds of car protection:
1) Warning Devices: These can include car alarms, tire locks and/or deflators, security system decals and VIN etching.
2) Immobilization Devices: These devices make it impossible for a thief to operate a car. An example is a kill switch to turn off electricity or fuel to the engine. Also, a fuse cut-off is another device to help prevent a vehicle from starting.
3) Tracking Devices: These devices emit a signal that allows the police or monitoring company to track its movement. This can help track down a car that has been stolen.
"While car thefts are the most prevalent, it is also important to secure RVs, campers, or boats while left unattended to reduce vehicle insurance claims. Make sure to install a hitch locker on a camper to reduce the chance of theft, or at the very least park the hitch up against a wall. One of the most effective ways to prevent camper theft is to buy a strong metal chain, run it through the chassis and the wheel and then padlock it. Many boat owners don't believe that boat theft is a high risk. However, if a boat is being stored on a trailer, taking the wheels off and storing them in the garage will help discourage thieves," adds Baldwin.
By taking the proper precautions, car, RV, and boat owners can reduce the likelihood of theft over the winter holiday.
Teachers Insurance Specialists offers car insurance, motorcycle insurance, RV insurance, boat insurance as well as home insurance and life insurance products. The Longwood, Florida insurance agents also offer various discounts to car and home owners. The niche Car Insurance Florida Specialists website is designed especially for Teachers Insurance Specialists clients to get easily accessible information on car insurance products, insurance coverage, and to request an insurance quote online.
Teachers Insurance Specialists is located at 2917 West State Road 434, Suite 101 in Longwood, Florida 32779 about 30 minutes east of Downtown Orlando.
Florida residents are encouraged to visit Teachers Insurance Specialists online at http://www.carinsurancefloridaspecialists.com for free quotes on auto insurance. Teachers Insurance Specialists also offer competitive insurance quotes for home, property and life insurance in Florida. Consumers can reach Simone Baldwin and her insurance agents at 407-622-6634 to receive a free insurance quote over the phone.