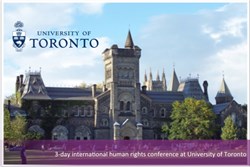 Toronto, ON (PRWEB) December 10, 2013
The WorldPride Human Rights Conference 2014 announces that former Prime Minister of Iceland, and the world's first openly gay head of government, Jóhanna Sigurðardóttir will be among the presenters from 60 countries in next year's international gathering, June 25-27, 2014 in Toronto.
International LGBTI leaders will gather in Toronto for WorldPride 2014 for a dialogue about LGBTI rights as human rights around the world, and the issues affecting our communities. Enthusiasm for the Conference has been so great that submissions greatly exceeded organizers' expectations, with more than 400 received from activists, academics and LGBTI leaders.
Hundreds of LGBTI rights leaders from around the world will speak, including: Russian activist and journalist Masha Gessen; Ugandan LBGTI activist Frank Mugisha; Kenyan human rights lawyer Justice Monica Mbaru; Venezuelan trans activist Tamara Adrián; and Canadian global HIV/AIDS leader Stephen Lewis. Panelists will address issues ranging from education and youth, HIV/AIDS, sex work, trans rights, employment, aging and other human rights issues. A full schedule for the conference will be announced early in 2014.
"The Conference takes place during a time of increased awareness of the challenges LGBTI communities face around the world," says Brenda Crossman, conference co-chair. "While the upcoming Sochi Olympics have highlighted the situation in Russia, it is just one example of the myriad of human rights issues affecting our communities."
"We're excited that LGBTI leaders from every part of the world – Uganda, Russia, Indonesia, South Korea, Turkey, to name just a few – will be participating," adds co-chair Doug Kerr. "The diversity of proposals and ideas submitted is amazing and we are excited by the caliber and breadth of the content that will be presented."
About WorldPride 2014 Toronto and WP14 Human Rights Conference
WorldPride 2014 Toronto is an international celebration incorporating activism, education, and the history and culture of global LGBTTIQQ2SA* communities, taking place from June 20 – 29, 2014. It is presented by Pride Toronto, producer of Canada's largest annual festival of LGBTTIQQ2SA* culture and human rights, under license from InterPride.
The WorldPride Human Rights Conference 2014 is a partnership between Pride Toronto and The Mark S. Bonham Centre for Sexual Diversity Studies at University College, University of Toronto, taking place June 25 — 27, 2014, it provides a unique opportunity for a global dialogue about LGBTTIQQ2SA* human rights. The conference is organized by an Organizing Committee and an Advisory Committee made up of people from Canada and several other countries.
Pride Toronto is the not-for-profit organization that hosts the city's Pride Festival, an annual event in downtown Toronto during the last week of June and one of the premier arts and cultural festivals in Canada. It is also one of the largest Pride celebrations in the world with an estimated attendance of over one million people. It celebrates the history, courage, diversity and future of Toronto's LGBTTIQQ2SA* communities.
*LGBTTIQQ2SA is an abbreviation used to represent a broad array of identities such as, but not limited to, lesbian, gay, bisexual, transsexual, transgender, intersex, queer, questioning, two-spirited, and allies.
For more information visit http://www.worldpridetoronto.com or http://www.wphrc14.com
Please contact:
Brenda Cossman
Director,
The Mark S Bonham Centre for Sexual Diversity Studies
(416) 819-1921
b.cossman(at)utoronto(dot)ca