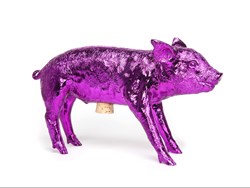 Brooklyn, NY (PRWEB) December 11, 2013
AREAWARE, designer focused home & accessory product manufacturer, announces the launch of its top selling Bank in the Form of a Pig in Grey Matte and a vibrant Orchid Chrome finish.
"Since its launch, the Bank in the Form of a Pig has been a standout product," notes Noel Wiggins, AREAWARE CEO. "We anticipate the response to the orchid to be incredibly strong, especially since Pantone® just named it the color of the year."
Part of Harry Allen's growing "Reality Series" of products, the Bank in the Form of a Pig is cast from a pig that died of natural causes. This enabled the designer to get a very high level of detail. The bank itself holds up to $10,000 in dollar bills.
Now celebrating its 9th year in the line, AREAWARE has sold more than 60,000 of the Bank in the Form of a Pig. The Company, which sells to wholesale accounts and direct to consumers, attributes the products success to its unique aesthetic and pop-art appeal.
"By adding a heightened level of sophistication and fun to the whimsicality of the beloved childhood piggy-bank, Harry Allen has reimagined something so iconic and relatable," explains Wiggins. "It appeals to everyone from the museum buyer who loves the Warhol look, to the general consumer who is looking for an unusual gift."
The Bank in the Form of a Pig is currently available in the following finishes: Silver Chrome, Gold Chrome, Pale Pink Chrome, White Matte, Champaign Chrome, Pale Blue Chrome, Navy Chrome, Glow in the Dark, White Matte, Black Matte and Fluorescent Pink Matte.
Wholesale buyers can email sales(at)areaware(dot)com for purchase details, and retail customers can visit http://www.areaware.com to see additional colors, learn more and sign up to be notified once the Orchid Chrome finish is available.
AREAWARE specializes in functional and unusual items created by upcoming and established industrial designers. Through a submission process, designers share product ideas with AREAWARE's creative team. Following a vigorous selection process, final products are chosen for production, fine-tuned, manufactured and then brought to market.
####
About AREAWARE
AREAWARE is a Williamsburg, Brooklyn based producer of everyday objects that are functional and unusual. Our goal is to create thoughtful products that inspire an emotional response. We like to think we have a good sense of humor and that our objects are poetic. We wish to create a forum for young and local talent and together become a strong voice for American design. We believe that appreciation for beauty is central to what it means to be alive and want to embody this principle in even the simplest things. http://www.areaware.com
Media Contact: Elizabeth Engelhardt
elizabeth(at)areaware(dot)com / 917.477.7466