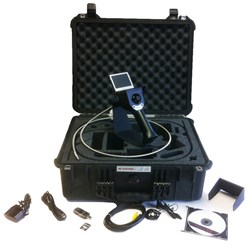 Traverse City, MI (PRWEB) December 10, 2013
RF System Lab's VJ-Advance video borescope received tremendous attention at the Milipol 2013 State Security Exhibition in Paris, France. With over 25,000 attendees and 914 exhibiting companies, the conference was one of the largest gatherings of security and defense professionals from all over the world. Milipol 2013 was the first event to showcase the VJ-Advance to the worldwide security and counter-IED communities. Joel Riling, Vice President of Government Programs at RF System Lab, was busy all week demonstrating the scope to officials involved in border security, CIED, and SWAT/Spec Ops.
While Cmdr. Riling has exhibited at many tradeshow in the United States, Milipol 2013 was the first time the VJ-ADV has been shown on the world stage. "Going to the Milipol conference was definitely a good decision, and the contacts I made there are already yielding great results," said Cmdr. Riling. "Our best approach to selling has always been to simply put our borescope in the user's hand, and the Milipol event provided us with that opportunity on a global scale."
As the uses for remote visual inspection equipment continue to expand, RF System Lab finds more applications every day for this technology. "Aviation maintenance is our largest single market segment, but we continue to see the VJ-ADV used in oil and gas, power generation, and various other industrial applications where maintenance and quality assurance are key success factors," said Duncan White, Director of Sales and Marketing. "The growth we are seeing in security, counter-IED, and Spec Ops has also been very notable over the year, and we see these categories as becoming more and more important over time."
RF System Lab is so confident in the VJ-Advance video borescope that the company offers qualified users a no-cost, no-obligation demo unit. This one-of-a-kind, 14 day trial period gives operators the chance to put the VJ-ADV to the test in their own facility or operating environment. Visit RF System Lab on the web, or call 231-943-1171 today to see what you've been missing.