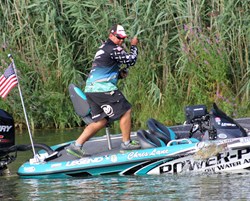 Brentwood, Tenn. (PRWEB) December 09, 2013
Swiftwick, a leading American producer of athletic compression socks, is proud to announce a new partnership with Fishhound, the outdoor industry's largest word of mouth marketing platform. As a result of the partnership, Swiftwick specialty outdoor partners like Basspro and Mountain High Outfitters will see more foot traffic in their stores as Fishhound offers the Swiftwick SUSTAIN sock line to its members as part of its Product Showcase.
Ideal for the environmentally friendly outdoor enthusiast, the SUSTAIN line is the world's first athletic sock created from Repreve® post-industrial recycled nylon. SUSTAIN embodies Swiftwick's commitment to manufacturing environmentally friendly products in the USA. The chemical-free sock creates a "second skin" feel, keeping feet warm while providing compression and moisture-wicking capabilities.
Fishhound first noticed Swiftwick at the 2012 Bass Master Classic in Tulsa, when snow and wind chill factors made Swiftwicks the buzz of the event.
Many pro bass fishing athletes like 2012 Bassmaster Champion Chris Lane, Ott DeFoe and Aaron Martens already know about these benefits and wear Swiftwick socks regularly.
We're thrilled to offer Swiftwick's SUSTAIN line in our Product Showcase because the socks are innovative and solve problems that our customers frequently have," said Rick Patri, vice president of operations for Fishhound. "Tournament anglers are required to stand for long periods of time and need a high-quality sock to keep their mind on fishing instead of cold, wet feet."
Here's how the Fishhound Product Showcase works: members of Fishhound's online community earn points by uploading photos, videos, reviews and engaging with Fishhound social media. The points are redeemable through the Product Showcase, where consumers can receive free products in order to test them and provide reviews which are posted on Fishhound's website, social channels and community discussion boards.
"Swiftwick products are beneficial for anyone doing anything physically demanding," said Mark A. Cleveland, CEO of Swiftwick. "We are excited to bring the SUSTAIN line's comfort and earth-consciousness to the outdoor endurance fishing community. We created this product here in the USA because it shows our commitment to green production and we're proud of it because it also performs so well you'll want to wear it everyday."
About Swiftwick
Founded in 2008, Swiftwick is headquartered in Brentwood, Tenn. The company is a performance sock manufacturer that proudly employs an American workforce in high-quality textile manufacturing. Swiftwick is an innovator in designing and producing superior socks. The company has a culture focused on manufacturing through environmentally friendly means, social responsibility and leading customer service. Learn more at http://www.swiftwick.com.
About Fishhound
Fishhound is the outdoor industry's largest word-of-mouth marketing platform designed to educate outdoor enthusiasts and influence their buying decisions. Fishhound leverages the viral nature of social media and the changes in today's consumer buying patterns to deliver consumers the information and research they're looking for prior to making a purchase. Fishhound is Yelp, for the outdoor industry. Sign up for free at http://www.fishhound.com/registration.