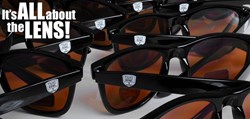 Monument, Colorado (PRWEB) December 09, 2013
Maxx HD® Sunglasses (Maxx HD®) has announced its partnership with the 2013 Fight Hunger Bowl that will be played on Friday, December 27, 2013 at AT&T Park, San Francisco. To congratulate the BYU Cougars and the Washington Huskies on their successful 2013 football campaign and invitation to compete in this year's Fight Hunger Bowl game, Maxx HD® will provide custom print sunglasses with the Fight Hunger Bowl logo to the BYU and Washington players and team staff.
"Maxx HD® is honored to be associated with the 12th annual bowl game held in the San Francisco area," said Rick Milner, CEO and President of Maxx HD® Sunglasses. "This bowl game supports such a wonderful cause and I am looking forward to developing our relationship for many years to come."
Booster Clubs or Alumni groups who are interested in purchasing the custom print Fight Hunger Bowl Maxx HD® Sunglasses should contact Anthony Gordon at (877)550-8116 ext. 536.
Contact: Travis Howell
Phone: (877) 550-8116
Email: travis.howell(at)maxxsunglasses(dot)com