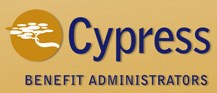 The fact that individuals and families will have more control in how they spend their pre-tax FSA dollars without the threat of losing them is a big step forward.
Appleton, WI (PRWEB) December 10, 2013
A leading employee benefits administrator in the United States, Cypress Benefit Administrators is offering employers guidance on a new "Use-or-Lose" rule alternative implemented by the U.S. Department of Treasury and IRS.
The original ruling stood for 30 years and directed that any unused funds in an employee's health flexible savings account (FSA) would be forfeited at the end of a plan year unless the employer's cafeteria plan included a grace period. If a grace period is in place, employees have additional time (the first two-and-a-half calendar months of the immediately following plan year) in which to pay for or be reimbursed for qualified expenses incurred during the original plan year.
The new rule modification includes a carryover option that allows employers to amend their cafeteria plan document and let employees use up to $500 of the current year's unused FSA funds during the immediately following plan year.
Unlike the grace period option, the carryover may be used to pay or reimburse medical expenses under the health FSA incurred during the entire plan year to which it is carried over.
According to Cypress President Tom Doney, losing these unused dollars became a significant problem because millions of employees have FSAs and their medical needs can often be unpredictable. "It can be very hard to foresee how much money you'll need for a year's worth of medical expenses right away in January," he said. "Many employees were either losing their leftover balance at year's end or feeling pressured into unnecessary spending to use up extra funds."
The IRS solicited feedback in 2012 for "Use-or-Lose" and then announced the carryover modification on October 31. Doney said his offices have fielded many questions in the last several weeks and are still receiving inquiries for rule clarification. "Many employers don't realize that you can either include the grace period or the new carryover provision in a cafeteria plan, but not both," he explained. "It's one or the other."
When choosing the carryover option, it does not count against or otherwise affect the indexed $2,500 salary reduction limit applicable to each plan year. The IRS agency guidance notes the necessary timeframes for making plan changes.
Doney said employers will need to choose which option is the best fit for their work population and employee benefit plans on a case-by-case basis. He explained that the carryover option shows progress in making FSAs more flexible. "The fact that individuals and families will have more control in how they spend their pre-tax FSA dollars without the threat of losing them is a big step forward."
A privately held company headquartered in Appleton, Wis., Cypress Benefit Administrators has been pioneering the way toward cost containment in self-funded health benefits since 2000. The third party administrator (TPA) is the country's first to bring claims administration, consumer driven health plans and proven cost control measures together into one package for companies ranging from 50 employees to thousands of employees. It serves employer-clients across the U.S. with additional locations in Portland and Salem, Ore., Omaha, Neb. and Colorado Springs, Col. For more information on Cypress and its customized employee benefits, visit http://www.cypressbenefit.com.