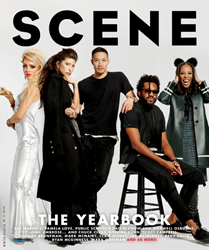 (PRWEB) December 09, 2013
SCENE is ending off the year on a high note with the release of its December/January winter issue. On November 19th SCENE, along with Ketel One and Strongbow hosted a fabulous all day fete at Milk Studios, which included a memorable photo-shoot and an after party in which New York's boldfaced attendees let loose. The photo-shoot culminated the Yearbook feature in SCENE's December/January issue and comprised of New York's most talked about personalities from up-and-coming names to the city's staple personalities that make up the sophisticated uptown and hip downtown scene.
"Our annual Yearbook debuts this month and is a whose who of New York City from chic, controversial writer Cat Marnell (you won't believe the things she told us) to CFDA darlings Public School and Pamela Love to iconic Chuck Close (who hates Instagram despite posting for countless Instagram photos on set). Who else made the cut? Check out 83 New York names you should know," states Editor-in-Chief, Peter Davis.
The momentum of the SCENE brand is unstoppable. Along with the Yearbook feature, the issue will also include a must-read letter to Justin Bieber by SCENE's columnist, Michael Musto and showcases "The Best Party People of 2013."
Read all the details at http://scenemag.com/.
SCENE Magazine is Manhattan's premier luxury lifestyle magazine led by editor-in-chief Peter Davis. The magazine is a beautiful monthly that is as smart as it is stylish. SCENE takes readers front row at Fashion Week and at the center of the world's of art, entertainment, business and real estate. Every issue the city's most interesting personalities bring readers into their homes, on vacation with them and divulge where they shop, eat and hit the town.
Observer Media is a diversified media company that offers readers cutting-edge reporting available on a variety of platforms, written by an editorial staff known for its distinctive and discerning style and wit. Observer Media is emblematic of journalism today – a bridge spanning traditional and digital media, including The New York Observer, Commercial Observer, luxury magazines and Observer national web properties (observer.com, politicker.com, galleristny.com, betabeat.com).
PRESS CONTACTS:
Observer Media / SCENE Magazine
Zarah Burstein, zburstein(at)observer(dot)com