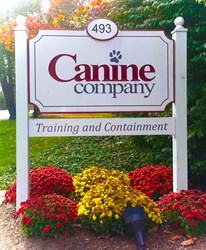 Three decades ago, the Hill family pioneered the pet containment industry and changed hundreds of thousands of lives forever
Wilton, CT (PRWEB) December 10, 2013
Canine Company®, the Northeastern provider of Invisible Fence® Brand pet containment systems, is proud to announce that this year will mark its thirtieth anniversary. Family owned and operated by the Hill family since 1983, Canine Company has grown from modest origins into a multi-million dollar pet services business. As the company has matured, its offerings have evolved to better serve the needs of pets and the people who take care of them.
Henry and Carol Hill first encountered Invisible Fence® Brand technology in 1981 while the equipment was still being beta tested. While living in Pennsylvania, the couple observed its success at keeping neighbors' pets happily and safely in their yards. However, when the family moved to CT in 1983, they struggled to find a reliable, local source for an Invisible Fence® Brand system and ended up self-installing the equipment for their two dogs. Pleased with the results, the Hills contacted Invisible Fence® Inc. (still in startup phase) in Malvern, PA about becoming a distributor of the product. In November of 1983, they signed a Dealership Agreement allowing them to sell Invisible Fence® Brand pet containment systems within the NY Metropolitan area.
Brand new to the emerging industry, Carol and Henry had very little experience or training at the time. Still, they believed in the technology and knew it would change the relationship people had with their pets. Henry recalls the company's first installation at a four acre property in Westport, CT: "We worked all day. Carol ran out for supplies, Tom and I hand laid wire in the brambles, and we all worked to trench along the stream." At the end, clients Paul Newman and Joanne Woodward were so delighted with the product, installation, and training that they shared their experience with friends. These first few celebrity clients were instrumental in heightening awareness of the Invisible Fence® Brand.
In the following years, the Hill family evolved from a dealer to a distributor and gained exclusive distribution rights to CT, NJ, RI, VT, ME, NH, and Southeastern NY. Canine Fence Company (known today as Canine Company) was born and the business began to operate as both a retailer and a wholesaler. In 1990, Henry and Carol's daughter Jennifer joined the business and was essential in developing the greater Boston market. At the turn of the new millennium, her contributions strengthened the infrastructure of the company and helped to create a platform for growth.
Due to repeated requests for training services, in 2010 the Manners program was created to provide personal, in-home obedience training and further strengthen the relationships owners have with their pets. In addition, the company launched an online retail division offering treats, toys and other pet related items. As the business expanded its offerings, "Canine Fence" became Canine Company, to better represent the myriad of products and services made available.
Today, Canine Company deals directly to consumers as one of the country's largest Invisible Fence® Brand retailers and also supplies more than 16 Independent Dealers throughout the region. They have installed over 100,000 systems and have protected over 200,000 pets to date. Voted one of the best places to work in CT, the Wilton-based company employs over 130 animal-lovers and offers a pet-friendly workplace. Dogs and cats enjoy the freedom of the company's four acre property, protected by an Invisible Fence® Brand system.
One major factor in Canine Company's transformation is the innovative technology offered by Invisible Fence® Brand. Pet owners are able to confront daily struggles like keeping pets away from trash bins, furniture, garden beds and more with Shields® indoor and outdoor transmitter units. The latest addition to the Invisible Fence® Brand lineup is the Doorman®, a programmable, industrial grade pet door which is activated by the pet's Computer Collar® unit. These advancements give pet owners the tools to set rules and boundaries customized to their lifestyles.
Perhaps the most significant driving force behind the company is an unfaltering love of animals. By offering full-service solutions to common issues, Canine Company is able to keep pets happy, healthy and safe while ensuring they stay in loving homes. When families feel ill-equipped to tackle their training and containment problems, pets are more likely to be surrendered. For this reason, Canine Company works closely with shelters and rescue organizations who share the mission of keeping dogs and cats safe and alive. In addition to offering monetary support, the company holds free training classes, hosts fundraising and adoption events, and provides adopters with discounted rates towards pet services.
With their passion for pets, vast training knowledge, and innovative tools, Canine Company is dedicated to improving the lives of canines and felines while providing peace of mind to their owners. Three decades ago, the Hill family pioneered the pet containment industry and changed hundreds of thousands of lives forever. Today, the same commitment to animals drives Canine Company to provide greater convenience to clients and create deeper connections with pet lovers in the Northeast.
To learn more about Canine Company offerings, call (800) 818-DOGS, visit http://www.caninecompany.com, or follow them on Facebook at http://www.facebook.com/caninecompanyusa. For media inquiries, please contact Audrey Lindner at marketing(at)caninecompany(dot)com.