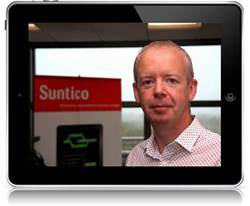 Dublin (PRWEB) December 10, 2013
Suntico's new head of Customer Services and Operations, Alan Bothwell, began his career Siemens Nixdorf in 1989 where he gained substantial and in depth experience in Operations Management, Project Management and Technical Services roles. Alan joins Suntico from Eircom, the largest telecommunications operator in Ireland. For the last 14 years, Alan was responsible for high value solution sales, from initial prospecting through to negotiation and delivery.
This new appointment is the latest in a period of growth for Suntico, a social workplace application for companies that use Sage accounting software. Suntico recently launched into the American and Canadian markets, providing a solution for users of Sage 50 US (formerly Sage Peachtree) and Sage 50 Accounting (formerly Simply Accounting). This expansion dictated the appointment of a professional with commercial and technical expertise to help support the infrastructure and customer service requirements to support an increasing user base.
A keen amateur photographer, Alan holds a Diploma in Electronic Engineering and a BSc (Hons) in Business Information Systems from Trinity College Dublin.
Derek Stewart, CEO, had this to say: "I am absolutely thrilled that Alan came on board. His skills and experience is invaluable to us during this very exciting time for Suntico."
For more information about Suntico, see http://www.suntico.com/sage_50.