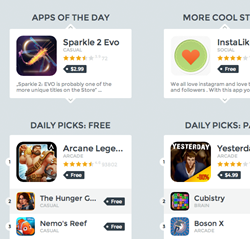 Search and find apps like never before
(PRWEB) December 12, 2013
With more than 1 million apps in each of the major app stores, the search for apps gets more and more challenging. App search engine http://www.knicket.com enables the user to find the best apps and games with the help of precise, fast algorithms and filters. It works with an asynchronous database to provide a near real-time search experience. Knicket.com allows to search the app stores in depth, before downloading or purchasing an app.
"I am sure that almost everyone had this moment, where one can´t find the app that matches his needs. That´s what knicket.com is for: to narrow down endless result lists to find the app or game you want," says founder and app developer Uwe Flade (Nighty Night! / Little Fox Music Box / more than 3m purchases).
Knicket has a variety of features and filters to help users find the best app to suit their need.
The priceslider allows users to select a price range while the age filter allows users to select an age range, such as apps made just for kids. Users can also filter through ratings, so they will only see applications with 3, 4, or 5 stars. To get more specific, users can search tags to find exactly what kind of app or game they want.
Another unique feature of Knicket is the "in-app-purchase" filter. It allows to exclude applications that have (sometimes hidden) purchases within the games/apps.
After using the filters, results can be sorted by downloads, rating or relevance.
Users can find apps related to other apps through the Appmesh. It recommends certain apps based on one that a user can select. The makers of Knicket have developed their own algorithm that offers similar content and will be improved further step by step.
As new apps are released every day, Knicket recommends checking back daily to find new and cool apps in their app lists, which are getting updated constantly to present inspiring and trending apps in all categories. Knicket also features a magazine with app reviews and tech news: http://www.knicket.com/magazine
Knicket has been released November 2013 and is optimized for desktop and tablet. The mobile phone version will be ready January 2014. KNICKET was founded April 2013 and is a product of Echtzeiten GmbH, Berlin; Germany.
For further information please contact Uwe Flade at press(at)knicket(dot)com. http://www.knicket.com
The Team

Uwe Flade, Founder, CCO, Executive Producer of apps Nighty Night!, Little Fox Music box.
Thomas Jung, CEO and CFO
Martin Konradi, CTO, developer and computational semantics specialist
Erik Panzer, CPO, Software architect.
Echtzeiten GmbH
Taubenstrasse 20-22
10117 Berlin Germany
info(at)knicket(dot)com