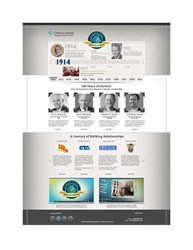 Our group relationships, maintained over a long period of time, allow us to effectively compete against larger insurance companies.
San Mateo, CA (PRWEB) December 11, 2013
It's a goal very few family owned companies can boast – 100 years of doing business. California Casualty celebrates the milestone January 1, 2014 .California Casualty was founded in 1914 by Carl G. Brown who conceived of a novel form of worker's compensation insurance. The company has since branched out to provide exceptional automobile and home insurance to members of select affinity groups. Throughout the years, California Casualty has survived two World Wars and the Great Depression while being run by four generations of the Brown family.
Reaching the century mark is a noteworthy achievement, especially considering that only 13 percent of family-owned businesses are viable by the third generation. For California Casualty, the 100th anniversary signifies the company's financial strength, enduring relationships, and high customer satisfaction – characteristics quickly established by its founder and carried forth by subsequent generations.
Carl G. Brown, Jr., took California Casualty into a new era. In 1951, California Casualty pioneered the concept of affinity group insurance with the endorsement of the California Teachers Association. This new partnership set the stage for the company's future focus and specialization. Carl Brown, Jr. cemented the corporate culture of integrity when he penned the California Casualty Code – an ahead-of-the-times business code of ethics still followed today. During the tenure of Tom Brown, California Casualty distinguished itself when, following the disastrous 1991 Oakland Hills Fire, policy limits were waived to make certain customers' homes could be rebuilt. Today, under CEO and Chairman Beau Brown's decisive leadership, California Casualty continues to thrive with auto and home insurance programs tailored exclusively for educators, firefighters, peace officers and nurses in 43 states and the District of Columbia.
"There are key ingredients to our success," Beau Brown said. "Our corporate culture helps to attract and retain customer-focused employees. Because our insurance companies are policyholder-owned, we can make decisions that are best for the long term rather than the short term. Our group relationships, maintained over a long period of time, allow us to effectively compete against larger insurance companies."
The 100th Anniversary website, http://www.calcas100.com, features a detailed historical timeline, extended commentary from customers and partners, and a look at each generation of leadership. The video "A Century of Service" includes historical footage with Beau Brown and other company executives reflecting on California Casualty's origins and century of growth.
Headquartered in San Mateo, CA, with Service Centers in Arizona, Colorado and Kansas, California Casualty provides auto and home insurance to educators, firefighters, law enforcement and nurses across the country. To learn more about California Casualty, or to request an auto insurance quote, please visit http://www.calcas.com or call 1.800.800.9410.
For more information, contact Mark Goldberg at 719-532-8436 or mgoldberg(at)calcas(dot)com.