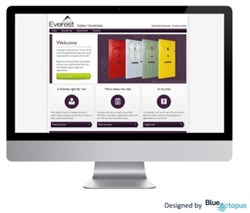 Leeds, UK (PRWEB UK) 11 December 2013
Everest have been improving homes for nearly 50 years and with over 2 million customers they have the experience, which is why they are regarded as experts in the industry. They are well known for providing quality windows, doors and conservatories, but their range also includes garage doors, driveways and even synthetic lawns to name a few.
With sales and distribution across the entire UK and a workforce of over 1000 employees, Everest is the largest new business job order for the Leeds based recruiter, cementing the fact that Blue Octopus have come a long way since their humble beginnings back in 2010.
Liam Coleman, the Joint Managing Director at Blue Octopus, said, "I am delighted with how our company has progressed since we started four years ago. We have a great team in-house who consistently support our extensive client partner base with huge volumes of recruitment campaigns.
"This is what has attracted Everest to work in partnership with us as we provide real sustainability through our dedicated service. Blue Octopus will continue to grow through 2014 as we enter our fifth year of business. There will be real growth amongst our client partner base and in turn we will continue to grow our own in-house support team to maintain and improve our high standards."
Blue Octopus' award winning service has gone from strength to strength, welcoming a range of industry leading companies like Everest. Everest agreed to the partnership with Blue Octopus after using another recruitment provider, this shows that large companies from all kinds of industries are showing clear confidence in the Blue Octopus brand.
For more details on Blue Octopus and the online recruitment that they provide, please visit the website: http://www.blueoctopus.co.uk.