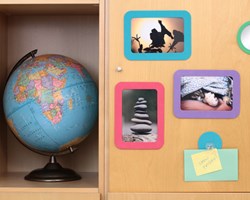 UM! Brands uses a new technology called EverSTIK Nanosuction to create peel and stick products that adhere to vertical surfaces without tools and without damage.
Chino, CA (PRWEB) December 13, 2013
It's always a good idea to keep any space, whether it's an office or bedroom, clean and collected. Now, with UM! Brands, coordinating your space is now easy as 1, 2, 3 because all you do is simply peel and stick.
UM! Brands makes a variety of reusable housewares applied with a revolutionary adhesive backing, known as EverSTIK nano-suction. The adhesive's surface contains the power of a million tiny suction cups that make it strong enough to hold items up to ten pounds when applied on smooth surfaces. Also, since it uses suction, it is reusable and most importantly, damage-free and easy to use!
UM! Brands makes unique products that include hooks, whiteboards, clips, picture frames, and mirrors. They are all available in fun colors to mix and match or coordinate according to your style! Here are some neat and quick ways to utilize UM! Brands in your space:
1. The Clip UM! Stationary is a small, circular clip, and is incredibly useful for holding up letters and other important memos. It's the best substitute for a cork board or thumbtacks on your wall! The Clip UM! comes in a pack of three clips in three different colors.
2. Use the Frame UM! to decorate your walls with pictures, while adding a pop of color. No need to worry about using a hammer and nails to hang up your picture frames! Just slide a picture right in before you apply it to a surface, and replace and repeat whenever you wish. The Frame UM! comes with a pack of three and is available in five colors.
3. The Mirror UM! is a small mirror that is especially convenient for those that need a quick fix before they dash out the door! Simply peel, stick and place where you'd like it! It is available in five colors and two shapes: round and square.
4. The Note UM! is a whiteboard, available in a variety of colors (most recently, in black and neon). Use it to jot down anything important you don't want to forget, or doodle fun pictures and make a statement.
UM! Brands was launched in 2011 in Southern California and has been a growing company ever since. To find out more about UM! Brands, visit their website at http://www.um-brands.com.