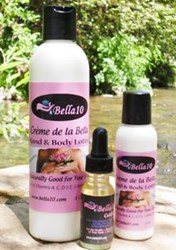 Sedona, Arizona (PRWEB) December 12, 2013
Founded by Alicia Lyons, Natural Nail Care Expert, Bella10 is quickly becoming one of the leading Arizona organic products on the market today after receiving a toxicity ranking of 1 from the Environmental Working Group. Lyons has been in the nail care industry for over 30 years and is the author of The Secret to Beautiful Natural Nails. Bella10 products can be found in several Northern Arizona retail stores including: Crystal Magic in Sedona and Chocolate Blonde Salon in Cottonwood.
The Bella10 nail and skin care line was developed in 2012 with the goal of creating a vegan product that would promote healthy skin and nails. Always keeping in mind the fact that over 60% of products topically applied to the body are actually absorbed by the body, Alicia focused her efforts on creating a lotion that would be as natural as possible. "Bella10 skin care is like food for your skin, rich in Amino acids and vitamins A, C, D and E," expresses Lyons. "No one wants to eat petro-chemicals or parabens."
The Bella10 signature product, Crème de la Bella, was designed to be a very lush yet all natural lotion that leaves skin hydrated and smooth with no greasy feeling. Crème de la Bella was recently reviewed by the Environmental Working Group and received 1 for product purity, 0 being water up to 10 being Formaldehyde (EWG rating for Creme de la Bella Hand & Body Lotion). Bella 10 uses a blend of organic butters and oils to help to maintain the precious elasticity of skin, as well as an array of natural vegan botanicals that eliminate free radicals while soothing and rejuvenating skin. All ingredients used in the line are naturally derived and never test on Animals. Bella10 products are also Petro-Chemical, Paraben and Phthalate free.
Lyons realizes that most individuals may not fully understand the importance of natural body care and the significant impact it can have on the human body. She believes that to properly care not only for outside appearance but inside as well, people really need to take a moment to reflect on their daily habits and how the environment that they are constantly being exposed to may be affecting them. With the ever increasing awareness of the carcinogens in the air and how skin is constantly absorbing them, customers can trust in the quality and purity of one of the finest organic lotions in Arizona.
About Bella10: Bella10 strives to bring personal and professional Natural Nail care knowledge to a whole new level with one of the finest organic lotions in Arizona. For more information, visit: http://www.bella10.com.