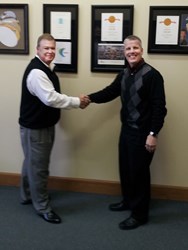 "Our alliance with Elanders Americas will allow TRG to meet the strong demand for global marketing campaigns while strengthening our clients' ability to control their branding," explains Chip Clements, President of TRG in Atlanta.
Atlanta, GA (PRWEB) December 18, 2013
TRG-Target Response Group, a major regional provider of commercial printing, e-sites, packaging and fulfillment for retail and business-to-business industry segments, announced that it has formed a strategic alliance with Elanders Americas.
This partnership further expands TRG's ability to offer its clients a global presence while increasing their capabilities and footprint.
Together, the two companies will continue to specialize in commercial print, POP and POS marketing, along with Packaging, e-Commerce, Promotional Products and fulfillment of local, national and global marketing efforts.
About TRG Atlanta:
TRG (http://trgdirectusa.com/) an established leader in the Atlanta market specializes in Graphic Communications and print-related media, including digital, sheet-fed, web offset and large format. With the capacity to fulfill any size marketing program, TRG helps clients both large and small increase brand awareness. TRG's e-Commerce sites, warehousing and fulfillment capabilities allow companies to focus on their core business while we take care of the rest.
About Elanders Americas:
Elanders Americas (http://www.elandersamericas.com/) is a global printing group that specializes in Commercial Print, Packaging, and e-Commerce. Elanders also offers services in Web-to-Print (W2P), EDI, advanced pre-media, fulfillment, and logistics. With production in nine countries on four continents Elanders is one of the few suppliers that can offer global solutions for all kinds of printed information.
Media Contact: TRG-Chip Clements; ELANDERS AMERICAS- Jeff White
###