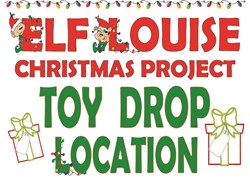 "We're very happy to serve as toy and clothing drop off points for these wonderful charities. It gives us the opportunity to be a part of something that helps families in need during the holidays," said Billy Mahone, owner of Atlas Floors Carpet One
San Antonio, TX (PRWEB) December 11, 2013
"We're very happy to serve as toy and clothing drop off points for these wonderful charities. It gives us the opportunity to be a part of something that helps families in need during the holidays and it feels great to be able to do that," said Billy Mahone, owner of Atlas Floors Carpet One in San Antonio, TX.
Contributions to each of these charities are 100% tax deductible. Toys and clothes can be dropped off at Atlas Floors Carpet One's two locations: 17100 San Pedro, San Antonio, TX 78232 and at 10242 W. Loop 1604 N., San Antonio, TX 78254.
To learn more about Atlas Floors Carpet One, visit http://www.atlasfloors.com or http://www.facebook.com/atlasfloorssanantonio.
To learn more about the Elf Louise Christmas Project, visit http://www.elflouise.org.
To learn more about the 10 Days of Giving, visit http://bit.ly/1gCFjRZ.
About Elf Louise
The Elf Louise Christmas Project began in 1969 when the founder, Louise Locker, was a student at Trinity University in San Antonio. She found that for many San Antonio families, Christmas just did not exist. Louise began to look for a way to provide a few Christmas presents to some of these children. That first year, with the help of a friend, she collected gifts for children in 13 families.
About Atlas Floors Carpet One
Since 1948, family-owned Atlas Floors Carpet One has been the premiere San Antonio, TX floor supplier and installer of quality carpet, hardwood floors, ceramic tile, laminate and vinyl flooring for local homes and businesses. Atlas Floors Carpet One helps its customers identify the best surface for their home or business. With its two San Antonio locations, Atlas Floors Carpet One and its knowledgeable professionals can be trusted for expert advice, first-rate service and competitive pricing.
Media Contact:
Billy Mahone
210-734-5007
http://www.atlasfloors.com