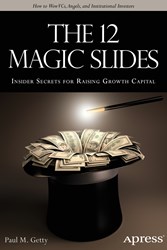 A tech titan's first impression on investors can make or break their entrepreneurial success.
New York, NY (PRWEB) December 10, 2013
Investment expert and Silicon Valley insider, Paul Getty, reveals a proven method to get investors to hand over their hard-earned money to founding CEOs in Apress Media's "The Twelve Magic Slides."
A tech titan's first impression on investors can make or break their entrepreneurial success. There are twelve key themes which Getty developed throughout years of coaching company founders. He insists CEOs know these tips before pitching to sophisticated inventors: the problem you see, your solution to it, the resulting business opportunity, the amount of money you need to grow the firm, and the potential returns for investors, among others.
Getty truly understands the link between a CEO's idea and an inventor's wallet. He not only mentors entrepreneurs through their business pitch, but also offers assistance for the entire development of a successful startup. His advice ranges from preparing for the stress of raising capital, to building and showcasing a credible leadership team investors will trust.
This is a guide that entrepreneurs, investors (angels, VCs, etc.), service providers (law firms, accountants, coaches, consultants), students, academics, and pundits surveying the startup scene, can all benefit from.
For more information on, "The Twelve Magic Slides," please visit: http://www.apress.com/9781430264842.

ISBN: 9781430264842
175 pages
User Level: Beginner to Advanced
Publication Date: December 18, 2013
Available eBook Formats : EPUB, MOBI, PDF
Print Book Price : $29.99
eBook Price: $20.99
About the Author
Paul M. Getty has been an active venture capitalist with successful technology investment firms and is a co-founder of the First Guardian Group, which has completed over $800 million in transactions. His operating experience spans over 25 years as a serial entrepreneur and executive officer in firms that resulted in investor returns of over $700 million through multiple successful IPOs and M&As.
About Apress Media
With more than 1,500 books in print and e-formats, Apress is the authoritative source for IT professionals, software developers, and business leaders all over the world. Apress provides high-quality, no-fluff content that helps serious technology professionals build a comprehensive pathway to career success. Since 2007, Apress has been part of Springer Science+Business Media, one of the world's leading scientific, technical, and medical publishing houses, enabling global distribution of Apress publications. For more information, please visit http://www.apress.com.