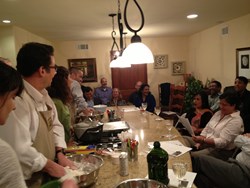 What a lovely dinner and experience. The team loved it!
San Diego, CA (PRWEB) December 10, 2013
Lajollacooks4u has kept busy this past November with exciting team-building events. Lajollacooks4u hosted two team-building events; one for a locally-based company and the other for a subsidiary of an international company. 
Hosting team-building events for companies that operate on a national or international scale is a delightful experience, since Lajollacooks4u enjoys the different personalities and experiences tourists bring into the kitchen. However, being a true San Diegan business, Lajollacooks4u always has a soft spot for the local companies that come into Chef Jodi's kitchen.  
The first company to join Lajollacooks4u brought six enthusiastic members from its marketing team to the team-building event.
The entire team worked together to prepare a five-course gourmet meal. The luncheon was concluded with the team dining and enjoying the amazing meal they successfully prepared. The meal was accompanied with fine wine and friendly conversation. 
The second company to join Lajollacooks4u brought eighteen members of their executive team, some from the local subsidiary, and others from overseas. The eighteen attending members gathered in Chef Jodi's kitchen to experience one of La Jolla's top tourist attractions. To accommodate the larger group, Chef Jodi arranged a cooking demonstration of the five-course meal. The team was divided into two separate groups where each team had the responsibility preparing a menu item, creating a friendly cooking competition. Once the individual dishes were completed, the group reconvened at the dining table. Laughter consistently rang throughout Chef Jodi's kitchen and continued at the dining table where the team members shared their cooking stories and each other's company.
Just as both companies discovered, Chef Jodi's kitchen offers a unique activity that encourages teamwork and collaboration to produce a gourmet five-course meal. Lajollacooks4u's unique and intimate setting provides a friendly environment where participants can relax, sip wine and laugh together, all while keeping a careful check and claiming proud ownership of the dishes they created together. "This is a fabulous way to boost morale and create a sense of unity, while spending sometime out of the office!" said Chef Jodi.
Lajollacooks4u's team-building events can accommodate small groups to medium sized groups of up to 30 participants. Popular team-building events include executive and department members, holiday parties, sales meetings, and employee rewards. All events with Lajollacooks4u are personally customized to meet the needs and desires of the business. 
About Lajollacooks4u
Lajollacooks4u, founded in 2008, provides a unique and intimate activity for couples, corporate team-building, and any foodie looking for a cooking and culinary experience in an ideal setting overlooking the Pacific Ocean. Based in La Jolla, a suburb of San Diego, CA, Lajollacooks4u has enjoyed record growth since its inception and is ranked as a top attraction in La Jolla on the world's largest travel review site, Trip Advisor. For more information, contact Jodi Abel at jodi(at)lajollacooks4u(dot)com or phone 1-858-752-4980.