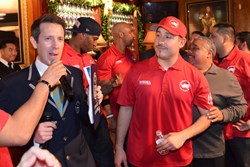 Las Vegas, NV (PRWEB) December 10, 2013
Spearmint Rhino Gentlemen's Club announced that bartender Erik Mora set a new Guinness World Record for the most cocktails made in one hour by pouring 1,559 different drinks. Mora shattered the previous record of 1,003 drinks set by a New York bartender in 2011.
The Guinness World Records rules were rather strict. In order to qualify for the record, Mora had to pour drinks that contain a minimum of three ingredients, with at least one alcohol, and no cocktail could be repeated.
Philip Robertson, Adjudicator for the Guinness World Records, announced the final tally of 1,559 cocktails and awarded Mora with the official certificate and title.
A bartender at Spearmint Rhino for the past decade, 31-year-old Mora has long wanted to break the most cocktails record.
"I thought about breaking it two years ago and then applied this past January for the Guinness World Record, and now all my hard work has paid off," said Mora. "I feel like I'm the World's Fastest Bartender."
The event was co-sponsored by SVEDKA Vodka, an imported vodka from Sweden.
Spearmint Rhino, voted the #1 Gentlemen's Club in the world, offers a wide variety of services and packages for all occasions. A spectacular one-of-a-kind gentlemen's club set to the hottest music that will satisfy everyone's tastes. Spearmint Rhino Las Vegas is open 24 Hours a day, seven days week, so the fun ends when you say enough.
Video Link: http://youtu.be/iUXI25N1HTU