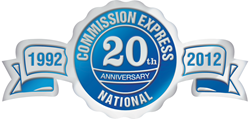 San Mateo, California (PRWEB) December 11, 2013
Commission Express, the nation's largest real estate commission advance provider, announced today the opening of its newest office Commission Express Silicon Valley, located at 2672 Bayshore Parkway, Ste. 612, Mountain View, CA 94043. "Our mission is simple," described franchisee Paul Wong, "to provide a reliable source for real estate agents and brokers to quickly and easily convert their commissions into cash in just two days or less. Further, our approach to the marketplace is unique because we underwrite the strength of the transaction, not the real estate agent or broker."
The widespread demand for the Commission Express service has been consistently demonstrated as we expand our offices throughout the country. "We are very excited to continue to broaden our services to the real estate professionals in the Silicon Valley area, and afford additional agents and brokers the same opportunity for personal and local service that existing clientele currently enjoy," Paul Wong commented.
John Stedman, President and CEO of Commission Express said of Paul Wong, "Commission Express Silicon Valley is locally owned and operated by JP Factoring, LLC, as part of the Commission Express National Inc. franchise system. Paul Wong, the owner and a principal member of the LLC, comes with years of corporate management in the Hi-Tech industry. As a veteran private real estate investor himself, he fully understands the ebb and flow nature of the real estate industry and its challenging cash flow needs faced by many parties involved. The Commission Express Silicon Valley office is fully dedicated to fulfill these cash flow needs for the Bay Area real estate professionals with most responsive personal service and flexible terms." Paul Wong can be reached at 650-383-8246.
Commission Express National, Inc. is headquartered in Fairfax, Virginia and is recognized as the only franchised real estate commission advance service provider in the country.