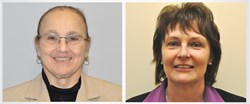 Wethersfield, Conn (PRWEB) December 10, 2013
Qualidigm, the national healthcare consulting company in Wethersfield, Conn., announced today that Consulting Director Kathy Roby and Project Manager Rita Grimes have earned the Consultant Certification from the Community Health Accreditation Program (CHAP). They are the first home health and hospice consultants in Connecticut to achieve this professional credential and standard of quality.
The CHAP Consultant Certification is a distinction that highlights individuals as experts who work with home health and hospice providers to prepare for and navigate the complicated CHAP accreditation process. As the "deeming authority" granted by the Centers for Medicare and Medicaid Services (CMS), CHAP has the regulatory authority to survey agencies providing home health, hospice and home medical equipment services to determine if they meet the Medicare Conditions of Participation and CMS Quality Standards. The foundation of the Consultant Certification is based on the goals of the CHAP Standards of Excellence, which are to help all community-based health care organizations strengthen internal operations; promote continuous quality improvement, safety and cost-effectiveness; affirm public trust; and maintain the viability of community health practice.
"More and more, consumers and healthcare providers alike look with discernment for a national accreditation as a validating seal of approval and a standard of excellence. I am proud of Kathy and Rita for achieving this professional distinction and for being the state's first CHAP Certified Consultants," said Tim Elwell, Qualidigm President and CEO. "With more than 50 years of collective experience, this certification exemplifies their commitment to help community-based home care and hospice providers consistently provide a high level of care to their patients."
National trends point to numerous factors why high quality Home Care is of growing importance:
1.) Modern medicine has significantly increased the average life-expectancy, which will continue to rise.
2.) This increased lifespan comes with people having more chronic, complex conditions.
3.) Patients are leaving the hospital earlier with highly technical equipment and need more intensive, coordinated care.
4.) Healthcare technology is increasingly moving into patients' homes; devices that were previously used solely in hospitals such as ventilators, apnea monitors and infusion therapy are now in peoples' homes; telehealth technologies are rapidly emerging.
"From infants leaving the hospital with heart monitors to seniors coping with chronic, complex conditions, Home Care is a 'cradle-to-grave' issue. It necessitates expert, compassionate focus to partner with each patient to provide a unique sense of physical and emotional wellbeing," said Roby.
Roby and Grimes recently completed comprehensive training at the National Association for Home Care & Hospice's Annual Meeting and Expo in Wash, D.C to achieve CHAP Consultant Certification. While at the conference, Qualidigm premiered Qualiance™ a first-of-its-kind web-based tool that audits and analyzes Medicare Conditions of Participation compliance. With access to this real-time data, Qualiance™ enables home health care agencies to instantly pinpoint deficiencies and develop strategic corrective plans of action to improve these areas and ultimately avoid costly penalties. Qualiance™ is the company's first entry into the software development market.
About Qualidigm:
Qualidigm's mission is to advance the quality, safety and cost-effectiveness of healthcare through transformational change. The company, which is celebrating its 30-year anniversary, provides consulting services to public and private sector clients nationwide.These services include consulting, data analysis, health information technology, patient safety, quality improvement and utilization review. In addition to offering compliance tracking support, Qualidigm works with home health and hospice care agencies to develop practical solutions to improve the quality and safety of the care delivered to their patients. http://www.qualidigm.org.
About CHAP:
CHAP is an independent, nonprofit, accrediting body for community-based health care organizations, which accredits nine programs and services. As the oldest national community-based accrediting body with more than 8,300 sites currently accredited, its purpose is to define and advance the highest quality of community-based care. http://www.chapinc.org
###