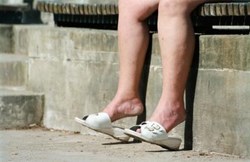 Novant Health Vein Specialists helps make the holidays a little brighter for needy Winston-Salem residents.
Winston-Salem, N.C (PRWEB) December 12, 2013
December 10th, 2013. Winston-Salem, N.C. Novant Health Vein Specialists, a leading vein care center in Winston-Salem, N.C., is organizing a holiday clothing drive to help clothe the homeless and others in need in Winston-Salem this holiday season. The drive will benefit the Samaritan Ministry Soup Kitchen of Winston-Salem.
"We really care about our community," said a Novant Health Vein Specialists representative, "and this is just one way we can give back to those in need." The vein center will collect hats, socks, gloves, and other articles of clothing throughout the month and donate them to the Samaritan Ministry.
Novant Health Vein Specialists is active in its charitable outreach efforts in the Winston-Salem area. During Thanksgiving, the vein center made food and monetary donations to Second Harvest Food Bank of Northwest N.C.
"We are a vein care center, but we also care about the overall health and well-being of everyone in our community," said Novant Health's representative. "We want to do our part to help make sure everyone has a happy holiday season."
For more information, visit http://www.samaritanforsyth.org/soup-kitchen.htm, or http://salemveins.com.
Varicose Vein Treatment Options
Varicose veins result from malfunction of their one-way valves which normally promote the return of blood from the extremities back to the heart. Blood backs up in the veins increasing the pressure against the vein walls resulting in bulging veins. More than just a cosmetic nuisance, however, varicose veins can lead to leg pain, swelling and discoloration.
Many people are unaware of the affordable, effective treatments available to eliminate varicose veins. Modern advances in technology have expanded treatment options to include techniques such as sclerotherapy, radiofrequency ablation and endovenous laser therapy. All of these procedures are well tolerated. They are performed by a highly skilled vein doctor on an outpatient basis with most patients able to return to work the next day.
About Novant Health Vein Specialists
Novant Health Vein Specialists is Winston-Salem, North Carolina's foremost provider of customized, state-of-the-art care for vein disorders. Their expertly trained and caring team of health professionals is dedicated to providing patients with the highest quality of vein care. The center offers advanced and minimally invasive therapies to treat a wide range of vein conditions. Dr. Ray Workman leads the medical staff. He and his 5 partners, Dr. R. Bradley Thomason, Dr. Steve Motew, Dr. Phillip Moore, Dr. Joel Deonanan, and Dr. Shawn Fleming are all board certified in vascular surgery by the American Board of Surgery. They are board certified vascular surgeons offering full service vein treatments in Winston-Salem, including sclerotherapy, ambulatory phlebectomy, endovenous ablation, venous stenting, complex venous ulcer management, and pelvic congestion syndrome.
Novant Health Vein Specialists
http://salemveins.com
Tel. 336-791-4010