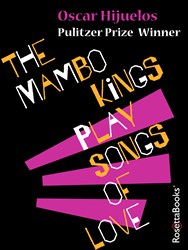 Oscar Hijuelos has left a literary legacy about immigrant identity. These three novels weave history and prose into tapestries of finely crafted American stories. - Arthur Klebanoff, CEO of RosettaBooks
New York, NY (PRWEB) December 10, 2013
RosettaBooks has released three Oscar Hijuelos works as eBooks, including The Mambo Kings Play Songs of Love, for which he was the first Latino to win a Pulitzer Prize in 1990, Our House in the Last World, and The Fourteen Sisters of Emilio Montez O'Brien. Oscar Hijuelos recently died at age 62, a huge loss to American literature.
"Oscar Hijuelos has left a literary legacy about immigrant identity," said Arthur Klebanoff, CEO of RosettaBooks. "These three novels weave history and prose into tapestries of finely crafted American stories. We are proud to share them with a broader audience through eBook editions."
Born in New York City to Cuban parents, Hijuelos knew well the feeling of alienation that many immigrants and their progeny experience with one foot in the homeland and one in the motherland. He was raised in a Spanish-speaking home, but lost his ability for the language after a year-long hospitalization.
In a 2011 essay in The New York Times, Hijuelos wrote, "It was during that long separation from my family that I became estranged from the Spanish language and, therefore, my roots."
The Mambo Kings Play Songs of Love became an instant sensation.
"Indeed, Oscar Hijuelos' remarkable new novel is another kind of American story — an immigrant story of lost opportunities and squandered hopes," wrote Michiko Kakutani wrote in The New York Times for her original review.
Brothers Nestor and Cesar Camillo move to New York City from Cuba in 1949 with dreams of finding fame as musicians in The Mambo Kings Play Songs of Love. Their similarities end there since one is full of machismo and the other sensitivity. However, as a debut on the I Love Lucy show reveals, the American Dream can be more elusive than one imagines. The story was made into the popular film Mambo Kings in 1992 with Antonio Banderas and Armand Assante.
In the semi-autobiographical novel Our House in the Last World, two brothers of Cuban immigrants in Spanish Harlem struggle to assimilate while maintaining their familial identity. Told with a lyrical style, the pair copes with their personal and cultural isolation in different ways.
A portrait of a Cuban-Irish family with fourteen daughters and one son is captured in The Fourteen Sisters of Emilio Montez O'Brien. Dynamic relationships and complex passions are described in the voice of the eldest daughter, Margarita, in this truly American story about a culturally blended family.
Oscar Hijuelos (1951–2013) earned a Master of Arts in Creative Writing from the City College of New York where he studied under Susan Sontag, Donald Barthelme and William S. Burroughs.
In addition to the Pulitzer, Hijuelos won the Rome Prize, an Ingram Merrill Foundation Award, the Hispanic Heritage Award for Literature as well as several grants from the Guggenheim Foundation and the National Endowment for the Arts. He wrote seven novels, which have been translated into more than 25 languages.
All three titles are available exclusively on Kindle for $8.99 each.
About RosettaBooks: RosettaBooks is the leading independent digital publisher. Its prominent author collections include 52 works of Winston Churchill, 35 titles by renowned science fiction author Arthur C. Clarke, 20 works by Kurt Vonnegut, 12 titles from international bestselling business author Stephen R. Covey and 18 works by Robert Graves, celebrated 20th century English poet, critic, and author of I, Claudius and Claudius, the God. RosettaBooks also publishes eBook lines in collaboration with AARP, Harvard Health Publications and Mayo Clinic. Publisher of ten Kindle Singles, including Ray Bradbury's The Playground, RosettaBooks has launched nine of them to bestseller status. RosettaBooks is an Inc. 500 company, on the exclusive list of the fastest growing private companies in the United States. For more information, please visit RosettaBooks.com and follow the e-publisher on Facebook.