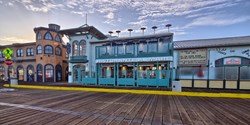 Santa Monica, CA (PRWEB) December 10, 2013
What happens when four childhood friends from Rome relocate to Santa Monica with a desire to share their love of Italian cuisine, wine and the Roman style of family entertaining? Ristorante Al Mare is born. Al Mare, which is now soft open, is the first eatery on the famous Santa Monica pier offering excellent Italian cuisine, produced from quality ingredients, and served in the family atmosphere they grew up with.
The restaurant features some of Santa Monica's most incredible panoramic views. The stunning three-story restaurant features a rooftop deck with full bar, second floor balcony terraces and a private dining room, as well as first floor exterior decks overlooking the Santa Monica Pier boardwalk and beautiful beaches.
The team behind Al Mare is known for La Piazza at The Grove, but this restaurant holds a special place in co-owners Paolo Simeone and Franco Sorgi's hearts, after fighting for nearly 5 years to complete the build-out.
"We have kids, and have brought our kids to the Pier for years because it's a place we love to go. Unfortunately, the Pier isn't really known for healthy fresh food – so when the opportunity came along so we took it. We are excited to bring this kind of restaurant to Santa Monica locals and tourists alike because we think it is what the Pier has been lacking," says co-owner Paolo Simeone.
To create the menu, the team brought on seasoned chef Giacomo Pettinari, also an Italian transplant, who honed his skills with notable chefs including Ferran Adria. Giacomo most recently worked as a chef at Valentino in Los Angeles before becoming Executive Chef of all the Al Mare team's restaurants.
Giacomo's menu features delicious Italian cuisine, and he cooks by his mother's motto - "keep the flavor real and authentic." The menu includes salads, appetizers, handmade pasta and pizzas, fish and meat, and the food is light, healthy and almost all prepared in house – from the butter to the desserts. Some highlights of the menu include the house cured beef carpaccio, a homemade squid ink pasta with clams, mussels and shrimp, and a Hawaiian vanilla pod custard pannacotta. To view the full menu, visit http://ristorantealmare.com/menu/.
Ristorante Al Mare is now open for business Sunday – Thursday from 11:30am to 9:30pm, and Friday – Saturday from 11:30am to 10:30pm, with Happy Hour from 4:30pm to 7:30pm daily.
Location: Ristorante Al Mare
250 Santa Monica Pier
Santa Monica, CA 90401
For Reservations: (310) 458-4448 or almareristorante(at)gmail(dot)com
http://www.ristorantealmare.com
Media Contact: Kelley Coughlan, Melrose PR, kelley(at)melrosepr(dot)com, (310) 260-7901, http://www.melrosepr.com