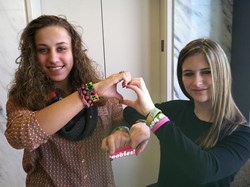 Philadelphia, PA (PRWEB) December 09, 2013
Online now and airing Monday, December 9 at 7:00 p.m. on the Philadelphia CNN-News affiliate WFMZ-TV, The American Law Journal presents "Is 'I [Heart] Boobies' Headed to U.S. Supreme Court?"
The two lawyers who have litigated the matter before a trial court, the U.S. Court of Appeals for the Third Circuit and perhaps will do so in front of the U.S. Supreme Court join American Law Journal host Christopher Naughton to discuss the significance of the case for students and schools. John Freund of King Spry Herman Freund & Faul represents the school district and Mary Catherine Roper with the ACLU of Pennsylvania is lawyer for the two middle school students. Frank LoMonte, Executive Director of the Student Press Law Center joins the conversation from CNN Studios in Washington, D.C.
In 2010, two girls in the Easton, Pennsylvania School District came to school with "I (Heart) Boobies" bracelets they claimed showed solidarity in the breast cancer awareness movement. The school disagreed, calling the bracelets 'lewd' and 'vulgar' and suspended the girls. The ACLU attorney representing the students in the First Amendment matter won in the trial court and then prevailed on appeal before the U.S. Court of Appeals for the Third Circuit. The Easton Area School District, by a 7-1 vote, is petitioning the U.S. Supreme Court for review. "The court recognizes you have to run a school. But as long as student speech does not disrupt the functioning of the school, you leave it alone," says Roper on the program. "What is lewd or obscene about a cause bracelet that says I heart boobies?"
"The Third Circuit has opened the school door to any sexual phrase that you could attach a cause to," counters Freund. "School administrators should have the capability of regulating that kind of speech, of minimizing today's hyper-sexualized school environment."
The program examines the storied history of student First Amendment speech rights and how the 'boobies' case, B.H. v. Easton School District, measures up to other landmark student first amendment decisions. Slate columnist Dahlia Lithwick says the case "could decide the fate of free speech for students."
The case is B.H. v. Easton Area Sch. Dist., 827 F. Supp. 2d 392, 394 (E.D. Pa. 2011).
The program is available on The American Law Journal YouTube channel now as well as televised Monday December 9 at 7:00 p.m. on the Philadelphia CNN-News affiliate WFMZ-TV.
About The American Law Journal
The American Law Journal is the weekly talk-feature program hosted by former New Jersey prosecutor and trial attorney Christopher Naughton. It airs Monday nights at 7:00 p.m. on the CNN- News affiliate in Philadelphia, WFMZ-TV to Pennsylvania, New Jersey, Delaware and online. On the air over twenty years, the program discusses consumer, business and Constitutional issues with attorneys, law professors, judges, elected officials and others to shed light on current legal news and how the system impacts the everyday lives of citizens.
Programs are live or taped in studio and on location in and around Philadelphia. For information, schedules, archived programs and more, visit LawJournalTV.com.