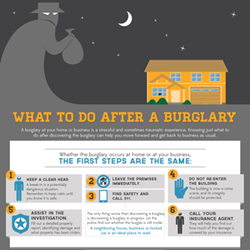 There is no guarantee in warding off burglaries. According to the FBI, there were 2,103,787 burglaries in the US in 2012.
Nashville, TN (PRWEB) December 11, 2013
ADS Security, an electronic security provider headquartered in Nashville, Tennessee, has released an infographic that illustrates the steps you should take if you arrive at the scene of a burglary at your home or business.
The holiday season is a peak time for burglaries, so it's important to take extra care in protecting your property against these crimes. (ADS previously published a list of burglary prevention tips.) Unfortunately, there is no guarantee in warding off burglaries. According to the FBI, there were 2,103,787 burglaries in the US in 2012, which totaled $4.7 billion in property loss. Specifically, there were 446,763 burglaries in the southeastern US and an average $2,230 lost per crime.
Whether a burglary occurs at a home or business, the first six recommended steps for you to take are the same:
1. Keep a clear head.
2. Leave the premises immediately.
3. Find safety and call 911.
4. Do not re-enter the building.
5. Assist in the investigation.
6. Call your insurance agent.
The only thing worse than discovering a burglary is discovering a burglary in progress. Allow the police to find out whether the burglar is still inside the premises. A neighboring house, business or locked car is an ideal and safe place to wait.
If your home has been burglarized, try to recall any suspicious activity or new visitors to your home. If a pet greets you at the door, take them with you to avoid further disturbance to the scene. Also, you should check local pawnshops for any of your stolen goods. Moving forward, always remember to lock all windows and doors, and arm your security system when you leave your home in order to help minimize the risk of future burglaries.
If your business has been burglarized, ask all employees and any neighboring businesses for information they might have about the incident. Give any security camera tapes to the police and check to see if neighboring businesses captured any footage. To help prevent a burglary from happening at your business again, take note of these tips:

Install outside lights that stay on overnight at all entry points and leave an interior light on at night so that movement inside is visible.
Bolt down any safes so that they cannot be carried away.
Secure all valuable inventory after hours.
Leave the cash register empty and open after hours.
Change security codes and passwords every few months or every time an employee leaves.
Keep a record of serial numbers for all valuables in a secure location away from the business.
The view and download the infographic, click here.