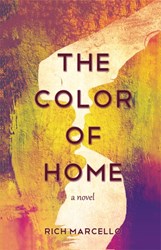 "The Color of Home sings an achingly joyful blues tune. It's the song of lives stripping away the hardened scars until all that's left is the possibility of each other. It's a tune we've all sung, but seldom with such poetry and depth." -- Myron Rogers
Boston, Mass. (PRWEB) December 11, 2013
Nick and Sassa are guarded, skeptical survivors who have, for years, skillfully buried the effects of their tragic pasts. After a series of intimate conversations, they fall headlong into love, and begin a remarkable journey toward their true selves, toward becoming whole, toward finding home.
After years of relationships without any emotional risk on his part, Nick, a successful music entrepreneur, believes he has found in Sassa, someone with whom he can live in complete truth, without masks. Sassa, a free-spirited chef who has spent years hiding her vulnerabilities, believes the same about Nick, though she has lingering doubts about the sustainability of any long-term relationship. For a time, the two enjoy the best relationship either of them has ever experienced, but their respective pasts, the pasts they both resolved to rise above, begin to surface, complicating their relationship.
A chronicle of Nick and Sassa's struggle to create a love based on wide-open truth and honesty, The Color of Home is a candid look at a lifetime-spanning love that manages to eclipse norms, facades, and loss. Straightforward and genuine, The Color of Home is a striking narrative of two people striving to embrace, and even transcend, the uncertainties inherent in great love.