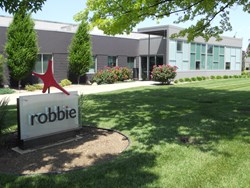 "Now we're recognized as a top innovator from the inside out," said Lisa Kist, Robbie's HR Director
Lenexa, KS (PRWEB) December 11, 2013
Robbie of Lenexa, Kansas has been awarded the Best Workplace in the Americas designation, Best of the Best 2013, for their exemplary human resources practices. This marks the third time Robbie has won the bestowed Best of the Best Workplaces.
A panel of highly respected HR professionals with decades of experience in the graphic arts industry reviewed the submissions. All of the winning companies actively show their employees that they care about their work environment, their personal goals and ambitions, as well as the needs of the company. Applicants were judged on eight criteria: Management Practices; Work Environment; Training and Development Opportunities; Financial Security; Workplace Health and Safety; Work-Life Balance; Recognition and Rewards; and Health and Wellness Programs.
"It's an honor to be recognized by the industry as a company that offers a superior workplace," said Lisa Kist, Director of Human Resources.
Michael Makin, president and CEO of Printing Industries of America, agrees. "Best of the Best winners routinely exhibit the highest commitment to success in many ways, but particularly through their employees. Congratulations to Robbie."
"Now we're recognized as a top innovator from the inside out," said Lisa. "A few of our workplace innovations that show us as a trailblazing employer include:"
The Robbie Wellness Center – a 2,500 square foot on-site gym free to all team members
The "I Make a Difference" Program – annual $1,000 individual grants to support each employee's personal growth and participation in the community
"Community Matters" Program – three paid days off each year for Robbie employees to give back through volunteer work
Robbie Son's and Daughter's Scholarship Program – college scholarships program available to all college-age children of team members
Printing Industries of America: Printing Industries of America is the world's largest graphic arts trade association, representing an industry with approximately one million employees. It serves the interests of more than 10,000 member companies. Together with its nationwide affiliate network, Printing Industries delivers products and services that enhance the growth, efficiency, and profitability of its members and the graphic communications industry through advocacy, education, research, and technical information.