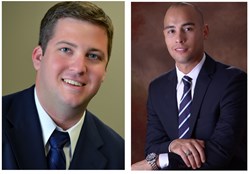 Harlingen, Texas (PRWEB) December 10, 2013
Shepard Walton King Insurance would like to welcome two new employees that have joined the agency. Hayden P. Ellis, a graduate from Texas A&M University, College Station and Timothy M. Cabaza, who graduated from The University of Texas, Austin will both join the team as producers.
Both new members come to the agency with different experiences and have received some of the best education and preparation. After completing a six month Shepard Walton King Insurance Group training program in McAllen and Harlingen, Texas, they spent two weeks at USLI Insurance Company Customer College in Philadelphia, Pennsylvania.
Shepard Walton King Insurance Group is eager to bring both of these bright and motivated individuals on board. The agency will ensure they have the proper knowledge and experience required in order to properly serve their clients.
About Shepard Walton King Insurance Agency
Shepard Walton King Insurance Group is an independent insurance agency formed in 1995. The Harlingen and McAllen offices provide mainly personal and business insurance services, while the Austin, TX, office serves the individual and group benefit needs of businesses and families. As a Trusted Choice® agency, Shepard Walton King strives to provide quality insurance products at a competitive price and to deliver superior services.