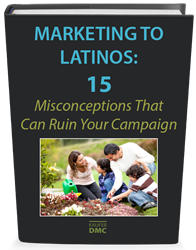 Marketing to Latinos, and talking about marketing to Latinos, requires unique skills and finesse.
Seattle, WA (PRWEB) December 09, 2013
Latinos are the biggest and fastest growing minority group in the U.S., and the nation's companies are taking notice. According to researchers from the Selig Center for Economic Growth at the University of Georgia's Terry College of Business, the U.S. Hispanic market is larger than the economies of all but 13 countries in the world.
Companies looking to tap into this emerging market may think that they only need to tweak existing strategies – or even worse – simply translate existing campaigns and materials into Spanish – to find success.
Two leading Puget Sound-based marketing agencies, Latina Creative Agency and Kaufer DMC, combined resources to create a new guide for companies and marketers who plan on marketing to Latinos in 2014: "Marketing to Latinos: 15 misconceptions that could ruin your campaign."
"Marketing to Latinos, and talking about marketing to Latinos, requires unique skills and finesse," said Patty Carrion Moras, one of the three co-founders of Latina Creative Agency. "There are many misconceptions and assumptions made by companies that we're hoping to help them avoid through this free eBook."
"From Seattle to Miami, the influence of the growing (and increasingly flourishing) Latino population is profound," said David Kaufer, Kaufer DMC Chief Dynamic Officer. "Smart companies are creating tailored strategies – including increasing use of mobile and digital marketing – to find and keep Latino customers."
Among the 15 top myths (and their dangers) covered in the eBooks:

Most Latinos are immigrants
Latinos are mainly blue-collar workers
Latinos don't have money to spend
To learn more about the 15 Misconceptions about Latinos That Can Ruin Your Campaign, download it here.
Kaufer DMC has created a number of online resources that provide small-to-medium businesses (SMBs) and healthcare practices with the information and tools to build inbound digital marketing programs that increase website traffic and generate more customer leads. The "Brain Food" covers a range of topics that are helpful to marketers and small business owners, including:
The Essential Step-By-Step Guide To Internet Marketing
How to Create an Effective Inbound Marketing Campaign
10 Internet Tips to Increase Sales Leads
###
About Latina Creative Agency
Latina Creative Agency's principals, Amalia Martino, Cynarah Ellawala and Patricia Carrion-Moras bring over 30 years of combined experience in marketing, PR, & video/audio production. They are an integrated marketing & PR agency using all available mediums, digital and traditional to engage with clients and their customers in the Hispanic Market. To learn more about Latina Creative Agency, visit http://latinacreativeagency.com/ and follow them on Twitter, and Facebook.
About Kaufer DMC
Launched and led by seasoned branding, marketing and communications veteran David Kaufer, Seattle-based Kaufer DMC is a digital marketing agency that creates successful branding, visibility and buzz-building programs that take advantage of the new mobile and inbound marketing era. To learn more about Kaufer DMC, visit http://www.KauferDMC.com and follow the company on Twitter, Facebook and LinkedIn.