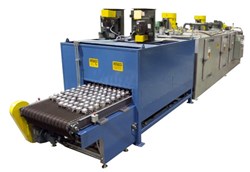 Chattanooga, TN (PRWEB) December 10, 2013
Davron Technologies, Inc. designed and manufactured a gas-powered continuous conveyor oven to cure the friction-reducing coating applied to cast pistons for an automotive manufacturer. The DTI-1001 continuous conveyor oven is capable of curing 3,700 pounds of horizontal pistons per hour.
To cure the pistons, the DTI-1001's conveyor system moves the products through two separate temperature-controlled zones on a carbon-steel wire mesh belt. The first, a heated chamber, operates at temperatures between 376ᴼF and 446ᴼF. Once the heating cycle is complete, the parts are transferred to a cooling chamber where their temperature is reduced to 100ᴼF in approximately 15 minutes. The speed of the oven's conveyor belt can be adjusted from .36 to 1.45 feet per minute, depending on the size of the pistons being cured.
The dimensions of the DTI-1001's heated chamber are 4'0" wide x 26'6" long x 0'6" high. It features two full modulating natural gas burners and can be programmed to operate between 200ᴼ and 500ᴼF. The cooling chamber measures 4'0" wide x 10'6" long x 0'6" high and includes a cooling supply fan, as well as a cooling exhaust fan. Airflow within both chambers follows a vertical down pattern.
The oven's interior chambers are made out of 16-gauge aluminized steel backed by six inches of eight-pound-density mineral wool insulation. The structural steel frame that holds the interior chambers is covered in 16-gauge carbon-steel paneling coated with high-temperature paint.
Davron designed the DTI-1001 continuous conveyor oven based on two criteria provided by the client: the weight of the pistons and the cure time. All oven components were manufactured by Davron at its headquarters in Chattanooga, TN, where the continuous conveyor oven was assembled and tested. Once the oven was approved by the client, Davron assisted with installation at the client's facility and provided training to the client's staff.
Visit http://www.davrontech.com for more information about Davron's continuous conveyor oven capabilities. Or, if you'd like to discuss your own industrial oven project, please call Davron's Vice President, Jimmy Evans, at (888) 263-2673, or fill out Davron's online spec submission form.
About Davron Technologies, Inc.
Davron Technologies, Inc. custom fabricates industrial ovens, providing turnkey design and system integration services to develop thermal processing solutions. Davron is a total industrial oven manufacturer, creating custom industrial ovens and precision process equipment for every industry that requires thermal processing. Each Davron industrial oven is custom built according to customers' unique specifications. As the Provider of Industrial Oven Solutions, Davron offers one of the largest selections of in-house and on-site industrial oven services in the world.