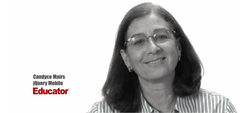 Educator.com strives to provide high quality instruction at an affordable price.
Los Angeles, CA (PRWEB) December 11, 2013
Take your web designs literally into your customers' hands. Educator.com's Certified Internet Webmaster (CIW) and Master Designer Candyce Mairs goes over the critical art of creating mobile websites in their newest course on jQuery Mobile.
Today, almost every company has their own app and/or mobile site, accessible by any smartphone or tablet. Without a doubt, it is a very advantageous tool to be able to communicate, promote, and bring convenience to your customers. jQuery Mobile is a platform that allows people to easily create those sites and grant customers access to your company anywhere on the go. Professor Candyce Mairs will cover:

What jQuery Mobile is, versus jQuery
jQuery Mobile Support in Dreamweaver CS6
HTML Pages vs. jQuery Mobile Pages
The Elements of a jQuery Mobile Page
Creating Pages and Adding Content
Integrating Twitter/Adding a Twitter Feed
How to Test on an iPhone, Tablet, and Windows Phone
Educator.com strives to provide high quality instruction at an affordable price. Teachers of all different subjects are highly certified. Professor Mairs is not only a CIW, she also an Adobe Certified Instructor and Expert in ColdFusion, Fireworks, Acrobat, and Contribute. She has been teaching her trade for over 20 years. For the initial price of $45/month ($35/month thereafter), you can have complete access to all 100+ courses that range from academic subjects to more professional software training like Dreamweaver CC and Photoshop CS6. Other super saver options are also available at $180/6 months and $300/12 months.
Educator.com is proud to provide today's scholars with advanced digital study materials that meet both their academic and financial needs. New and exciting courses are frequently added. At this time, Educator's jQuery Mobile lessons and accompanying free sample lessons are available for immediate viewing.
###
Educator.com pairs students with the best university professors and educators in the country. Educator's goal is to provide high school, college, and professional students with a variety of academic subjects in an online video format that is affordable, accessible, effective, and comprehensive.
The most effective way to improve education is to have the best teachers teach. With the best instructor in a subject, learning anything is possible. Every student deserves an excellent education regardless of geographic location or socioeconomic status and with Educator.com's affordable pricing everyone can access the site's complete content. For more information about the company please visit the About Us Page.