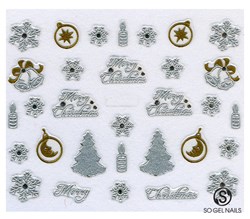 Our newest arrivals feature silver and gold winter holiday symbols that can be used in so many ways.
Enterprise, UT (PRWEB) December 10, 2013
Women and girls throughout the nation are expressing themselves through nail art. SO Gel Nails' new line of holiday decals has arrived and finger fashion has never been so much fun.
"Our newest arrivals feature silver and gold winter holiday symbols that can be used in so many ways," SO Gel Founder and President David Hall said. "They are beautiful on bare nails, and gel nails with deep winter color base coats."
SO Gel Nails Christmas Decal Set SD305 features a winter wonderland of snowmen, holiday trees, candy canes, Santa hats, snowflakes and whimsical borders.
Bling, bells, wreaths, holly and snowflakes can be at your fingertips with the beautiful Christmas Decal SD306 set.
Say "Merry Christmas" every time you extend a hand with silver and gold ornaments, holiday greetings, trees, candles and more neatly packaged in the Christmas Decal SD314 set.
There are 12 new holiday decal sets all together altogether including Christmas Decal SD316 with playful snowy trees, gifts and snowflakes. "We're delighted by just how popular our newest decals are," Hall said. "It's not too late to order them for clients to enjoy this holiday season."
Combine holiday decals with designer striping tapes and 3D embellishments for a very festive feel. Decals are most durable when covered with a layer of gel finish on gel nails or a layer of quality top coat. View these and other new products online at http://www.sogelnails.com or call 1-866-681-3737 to order.
-END-
NOTE: SO Gel Nails, located at 16 East Main in Enterprise, UT 84725, is a locally-owned and operated business. The company opened in January 2013 to provide healthy nail products so nail technicians can feel good about the safe products they use for their own health benefit and the benefit of others. The company seeks to provide the best education available from any distributor and is focused on offering unique, dynamic nail art. The company can be reached at 1-866-681-3737.