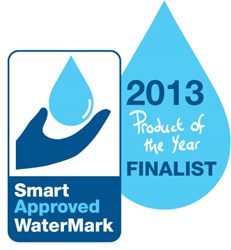 Coventry, RI (PRWEB) December 10, 2013
Neptune-Benson, LLC (Neptune-Benson), leading manufacturer of commercial aquatic filtration systems, is proud to announce the Defender® Regenerative Media Filter has been chosen as a finalist for the 2013 Smart Approved Product of the Year award.
The Smart Approved WaterMark™ was created in response to the challenge of reducing per-capita urban water consumption across Australia. The purpose is to reduce water consumption through the promotion of products and services that help conserve water use. (http://www.smartwatermark.org).
An independent technical expert panel selected the finalists from products certified by Smart WaterMark over the last year. The award criteria are based on:

Innovation – is the product an innovative solution to water conservation?
Design – is the product easy to use, install and well-designed?
Marketability – what is the price point, affordability and packaging of the product?
Sustainability – what is the carbon footprint of the product?
Respected worldwide, proven sustainability is what the Defender® is all about. The Defender filter eliminates over 90% of the backwash water associated with sand filter operation. Space savings, energy and chemical savings as well as power savings are all hallmarks of the Defender® regenerative media filter.
The Defender® pool filter is a perfect fit for:

Recreation Facilities
Waterparks
Splashpads & Spraygrounds
Spas & Wellness Centers
Hotels & Resorts
Apartments & Condominiums
Fountains & Water Features
About Neptune-Benson
Since 1956, Neptune-Benson has been a leading manufacturer of fi¬ltration systems for aquatic centers, waterparks and aquatic life support. Featuring the award-winning Defender™ Regenerative Media Filter, Neptune-Benson also offers steel & fiberglass sand ¬filter systems; the AEGIS anti-entrapment shield; fi¬berglass movable bulkheads; Dominion butterfly valves; Guardian strainers along with the complete family of Lawson Aquatics brand products. See: http://www.neptunebenson.com Through the company's subsidiary, ETS (Engineered Treatment Systems), these products are complimented by a complete line of industry-leading UV treatment solutions, making Neptune-Benson one of the world's leading providers of water management technologies for the commercial aquatics, municipal and industrial markets.