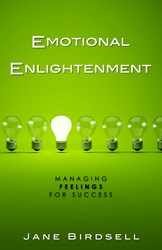 "If there is any one secret of success, it lies in the ability to get the other person's point of view and see things from that person's angle as well as from your own." Henry Ford
Calgary, Alberta (PRWEB) December 17, 2013
Henry Ford said, "If there is any one secret of success, it lies in the ability to get the other person's point of view and see things from that person's angle as well as from your own." Psychologist Jane Birdsell discovered that many people have difficulty understanding emotions which makes it harder to become emotionally intelligent. This awareness inspired her to write her book Emotional Enlightenment: Managing Feelings for Success to help readers become their own expert on emotions. Using examples and exercises, she demonstrates how people interpret the events in their lives and how these thoughts trigger their emotions. Understanding this process helps people become more emotionally literate. Her book received a 2013 Indie Excellence Finalist Award in the Relationship Category.
Andy Corkum, an engineer who described himself as an analytical thinker, said, "I truly enjoyed Jane Birdsell's book. It is so practically written, not a lot of theorizing and psychological mumbo-jumbo, but clear examples that are easy to relate to. It provides a very simple and effective methodology that I found really helpful for emotional analysis. Even more surprising to me was that emotional analysis is a learnable and useful skill.The overall thesis seems to be that empathy is a central component of analyzing and understanding emotions in yourself and others. At first I didn't get it, but by the end I could really see that from a practical perspective empathy really is the key."
Ann Laverty, PhD, RPsych., Associate Director of Counseling at The University of Calgary's Student's Union Wellness Centre, has endorsed Jane's book with the following comments: "I have recommended this book to several clients who appreciated the transparency of practical suggestions and exercises included and the encouraging voice in which the book is written. I believe this text is particularly helpful for post-secondary students who are learning about the importance of emotions as well as benefits of knowing how to express and manage responses."
The book is available at Amazon and Barnes & Noble in the United States and at Owl's Nest Books and other quality bookstores in Canada. It is also available on Kindle.
About Author Jane Birdsell:
Jane Birdsell has been a Nursing Instructor, a Public Health Nurse and a mother of two children. After her children started school, she obtained a Master's Degree in Counselling Psychology from the University of Calgary. For 25 years, she worked as a psychologist conducting her own private counseling practice and teaching Personal Development Seminars. At the University of Calgary, Division of Continuing Education, she taught a course for 18 years called Understanding Self-Esteem: A Discussion and Information Course for Women. She also taught Enhancing Personal and Professional Effectiveness (for men and women) for 14 years. Jane is pleased with the success of her book on the Calgary Herald Best-Seller list and in the 2013 Indie Excellence Award Contest.