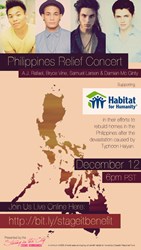 The Philippines Benefit Concert will be a live streaming concert on Stageit.com and can be watched from almost any country in the world.
Long Beach, California (PRWEB) December 11, 2013
More than 1.1 million homes were damaged or destroyed in the Philippines by Typhoon Haiyan? Damian Mc Ginty, Samuel Larsen, and Bryce Vine (FOX's "Glee" and "The Glee Project") are joining up with their friend and popular YouTube musician AJ Rafael for a special 2-hour Typhoon Haiyan Philippines Relief Concert. The concert will help in the rebuilding of homes throughout all of the Philippines by donating proceeds from the show directly to Habitat for Humanity.
Everyone, including all Gleeks and YouTubers worldwide, are invited to attend this Philippines Benefit Concert because it is being produced by the SteamyintheCity Music Collective exclusively on Stageit.com's virtual "Main Stage", which is arguably the hottest live streaming online concert venue on the internet today. Though it's not a physical concert venue the Main Stage has played host to a wide variety of popular artists in the past year, such as Sara Bareilles, Bonnie Raitt, Jason Mraz, and many more.
Even though attending a live streaming concert for the first time can be a bit daunting, Stageit has a very user friendly website making it quick and easy for new live streaming concert goers to sign up for their free user account and purchase virtual currency ("notes") used for buying concert tickets and tipping the artists. Also the SteamyintheCity Music Collective has published a very helpful "Stageit Concert 101: First Time Viewer Checklist" that is a step-by-step checkist that guides first time viewers have every thing they need and their computers are ready and able to watch the show.
What's incredible about this concert is that it isn't being produced by a FOX, Glee, YouTube or any other large corporations. Everything is being produced independently by four friends (Damian Mc Ginty, Bryce Vine, AJ Rafael & Samuel Larsen) with the help of a relatively new group of talented artists from the SteamyintheCity Music Collective. SteamyintheCity is actually a group of independent artists that are best known for making creative music videos on YouTube and producing high definition concerts with many musicians on Stageit . They work with a wide variety of musicians on all sorts of platforms. What this concert does is it truly adds definitive proof to the growing trend in music, where individual artists can freely use next-generation online music platforms, like Stageit.com, to mobilize the power of a worldwide audience. Through interactive online media, these artists can make a real and significant impact on Typhoon Haiyan recovery efforts in the Philippines and directly contribute to saving lives.
A minimum of 60% of sales and tipping from the concert will be going directly to the work that Habitat for Humanity is doing on the ground right now in the Philippines. Habitat for Humanity is currently in the process of distributing 30,000 shelter repair kits and 50,000 cleanup kits to help people in the Philippines repair their homes from the extensive damage caused by Typhoon Haiyan. Habitat for Humanity has been at work in the Philippines since 1988 and have helped more than 100,000 families through disaster response work around the world.
Donations to the Philippines can be made during the show by purchasing Stageit's virtual currency, "notes" and then "tipping" those notes to the performers before or during the show. Generous donors will receive rewards directly from Damian Mc Ginty, Samuel Larsen, Bryce Vine and AJ Rafael. Plus, the top tippers overall will have the opportunity to connect personally with the artists after the show.
Viewers on the 12th can expect to see an eclectic mix of musical genres since these 4 friends come from very different musical backgrounds. Bryce Vine will be performing his new rap single "Where the Wild Things Are" with help from a talented group of jazz funk musicians from the SteamyintheCity Music Collective. Damian Mc Ginty has also planned his set with the same band and will be performing a special version of his popular cover from Glee "Home". If that weren't enough, Samuel Larsen (also from "Glee") and AJ Rafael (having over half a million YouTube subscribers) are also doing their own sets and then all 4 friends will be coming together for a jam session at the end. 2 full hours of music from these guys, playing tunes recognizable FOX's Glee, The Glee Project and YouTube it's guaranteed to be a concert that cant' be missed.
Recent Updates:
The SteamyintheCity Music Collective just expanded the Philippines benefit by adding 3 additional Stageit concerts on December 12th earlier in the day, leading up to the Main Stage performance by Damian Mc Ginty, AJ Rafael, Samuel Larsen, and Bryce Vine at 6pm PST. These opening acts will feature some other YouTube stars and truly talented musician and are great for viewers unable to attend the Main Stage show at 6pm PST or are looking for some more events to attend in support of Habitat for Humanity,
Here is a link to the complete updated December 12th schedule for all of the Philippines benefit concerts at the SteamyintheCity Music Collective along with links to buy tickets for each show http://stageit.com/steamyinthecity
Tommy Miller - Philippines Benefit Concert
10:30am PST / 1:30pm EST / 6:30pm GMT
Juliet Weybret - Philippines Benefit Concert
12:00pm PST / 3:00pm EST / 8:00pm GMT
Chanele McGuinness, Regina Zaremba & Justine Dorsey - Philippines Benefit Concert
1:30pm PST / 4:30pm EST / 9:30pm GMT
Damian Mc Ginty, Samuel Larsen, Bryce Vine & AJ Rafael - Philippines Benefit Concert
6:00pm PST / 9:00pm EST / 2:00am GMT